Oliver Hudson's Son Gives Back for His Birthday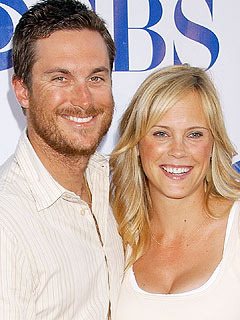 Gregg DeGuire/WireImage
Oliver Hudson is already teaching his toddler the importance of charity. The Rules of Engagement star's eldest son Wilder Brooks celebrated his third birthday on Aug. 23 — but he wasn't the only kid benefiting from the gifts.
"Wilder got massive amounts of presents at his party — I wanted him to understand that this isn't normal," Hudson, 33, told PEOPLE Moms & Babies at The Art of Elysium Second Annual Genesis Event.
"[I told him,] 'There are a lot of kids without any toys so we're going to [go through] your old toys. You can choose the ones you want to keep and we'll give the others to children with no toys.' It was great because he got it. He was totally fine with it."

However, giving time with mom and dad away to 5-month-old brother Bodhi Hawn has proven to be more challenging for the tot.
"We came home from the hospital and [Wilder] was amazing — kissing him and dancing for him," said Hudson. "After two months he got jealous, but he loves him."
Wilder has some practice sharing the family spotlight with his cousin Ryder, Kate Hudson's 6-year-old son.
"Ryder and Wilder are good friends," said Hudson. "Wilder will follow him around and do what he does. They have a good two-three hours of playing and then it turns into a little bit of rivalry."
— Michelle Ward