Kerri Walsh's Blog: Happy to Have Health
Kerri Walsh has taken home two Olympic gold medals in beach volleyball with partner Misty May-Treanor.
But she has two even bigger accomplishments to her name: Sons Joseph Michael, 15 months, and Sundance Thomas, 3 months, with fellow volleyball star Casey Jennings.
In her latest blog, Walsh, 32, talks about the affect that attending a March of Dimes event had on her — and how quick elder son Joey is getting!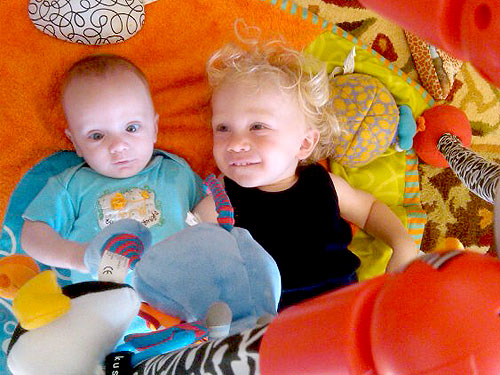 Sundance and Joseph – Courtesy Kerri Walsh
Last month I attended a fund-raising event for the March of Dimes, which raises money to help ensure that every baby gets a healthy start to life. It's a tall task for the people at MOD but they have huge hearts and a fighting spirit just like the precious little babies they strive to help.
While at the event it hit me just how blessed my husband and I are to have two healthy baby boys. Parenthood is scary enough when things are "normal," I can't imagine having health issues to deal with as well.
Joey takes my breath away every day with his spirited, amazingly athletic antics. He's too darn quick! Climbing on everything, running on the couch, opening up the "baby proofed" kitchen cabinets. It's so fun to watch him grow and explore, but also more than slightly stressful. I never thought I'd be one to tie a kiddie leash on my child, but I'm pretty sure that's coming soon. AND, if I could get away with strapping a helmet on his head for those close calls, I SO would!
I guess it's all part of the journey of parenthood. I'm strapped in tight for the ride! God bless the March of Dimes for their huge hearts, brilliant minds and selfless generosity. We should all pitch in!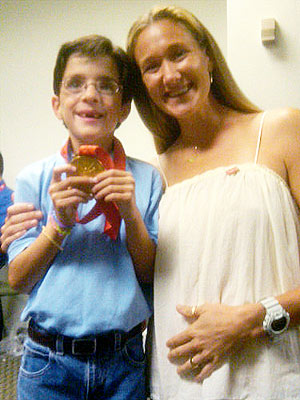 Courtesy Kerri Walsh
— Kerri Walsh