Get Ready to Shop! Back-to-School Trends from The Mini Social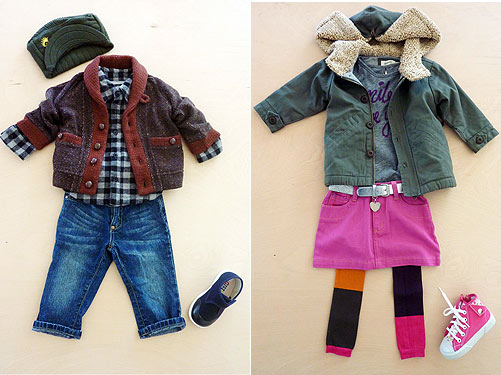 Courtesy of The Mini Social
Shopping for back-to-school usually entails buying the basics (tees, sweaters, jeans and sneakers). But what if you have a budding fashion plate on your hands? We recently chatted with The Mini Social founders, Dominique MacPherson and Melinda Marinack to get their take on this season's biggest kiddie/toddler trends.
Here's their guide to what looks to consider, plus a breakdown of key pieces you can buy from their private sample sale site this week:
Grunge: (above left)

From Kingston Rossdale to Lourdes Leon, this early '90s style is already gaining ground. For an instant update, layer a grandpa cardigan over a buffalo plaid flannel and vintage screened tee and pair it with slim cut, faded jeans. A cool military inspired hat is a great finishing touch.
Acoustic flannel shirt(now $24, originally $58) and grandpa cardigan, Wonderboy jeans, Knuckleheads hat, Gigi & Zaza Romeo shoes (now $39, originally $49)
'80s: (above right)
We love bright '80s hues paired with darker colors, especially army green (jacket) over pink (skirt). It's instantly fun and looks amazing. To make the look pop more, we added a cool, puff-sleeve message tee, color block tights and hot pink shoes.
Acoustic military coat, Mini Rotation Love tee (now $12, originally $28), Lola Et Moi pink denim skirt (now $28, originally $69), Le Big tights, Gigi & Zaza Liberty sneakers (now $42, originally $52)
Sophisticated: (below)
With its cool modern details (ruffle neckline) and bright chartreuse color, this pretty A-line blouse looks adorable under a classic blue corduroy blazer — complete with elbow patches. We paired it with the "IT" item of the season — jeggings — which are great because they are comfy and have the look of real denim. To polish it all off, we added tie-up purple flats for a chic Paris-girl feel.
Neige ruffle top, Right Bank Babies cord blazer (now $53, originally $105), Chopstix jeggings, Gigi & Zaza Marcelle flats (now $52, originally $64)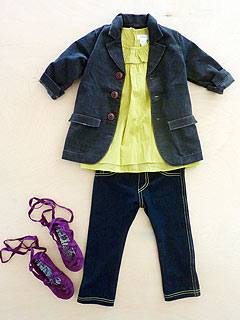 Courtesy of The Mini Social