Scott Stapp Makes Touring a 'Family Affair'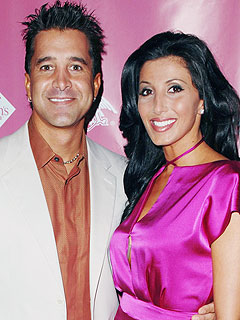 Larry Marano/Getty
Currently out on tour, Creed frontman Scott Stapp is enjoying his downtime with his own personal fan club: his family!
"I'm fortunate my family can just stay together," the singer, 37, tells ESPN.
While he's loving the time with wife Jaclyn and their children, 3½-year-old daughter Milán Hayat and 8-week-old son Daniel Issam, the proud papa can't help but miss his firstborn, Jagger, 11.
"If school hadn't just started, they'd all be out here, they were out the whole tour," he explains. "Jagger went back to start school, my daughter stayed and my baby stayed and of course my wife stays with me, thank goodness. We really try to make it a family affair."

And although they are hundreds of miles apart, Stapp makes an effort to stay in close contact with Jagger — even giving his pre-teen advice on tackling middle school.
"I just remember having conversations a couple of days ago about where to get his locker, and the place for kids to hang out, so he was pretty nervous," Stapp shares. "He's just a well-rounded kid, he plays drums, plays guitar, he's got his own little band … and he's just a great kid."
As for Milán, it seems as if she's planning on following her father's footsteps right into the music industry.
"She's like that little puppy you get that just runs around your coffee table all day long until it falls asleep," he laughs. "Milán is the one who is probably going to be the rock 'n' roller. She sings every song when I'm on stage, she mimics me on stage and acts like she's singing into the microphone, copies me, and I'm like, 'Oh, goodness.'"
The couple's newest addition, however, provides a good balance to his big sister. According to Stapp, Daniel cries rarely — and makes his dad work for a smile!
"He has a very serious look on his face," he explains. "When I start going, 'Go Daniel, go Daniel, go D.I., go D.I.,' then I start moving around and he cracks a smile at me, and it's all over then. But he's the most serious baby that I've ever seen."
Whether his children pursue a career as a musician or decide to head down another path, Stapp hopes they will put their schooling first and foremost. "Academics, man, a college education," he muses. "One thing that brings a smile to my face as a proud papa is when I catch my son reading books on his own in the house."
That said, Jagger's interest — and skill! — at baseball often leads Stapp to dream of the future.
"I tell ya, there's nothing better than being out in that grass on a sunny day," he says. "I'd like him to be a pro ballplayer. I'd like to be the dad sitting in the front row. That would be awesome."
— Anya Leon