Is Ali Larter Expecting a Boy?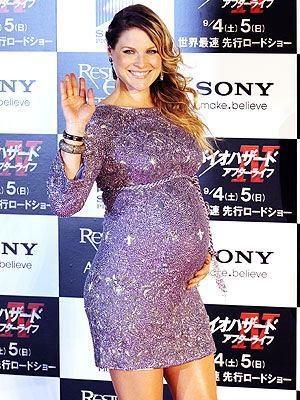 Oshikazu Tsuno/AFP/Getty
And the confusion continues: Weeks after the expectant actress was spotted picking out blue and white baby clothes, Ali Larter — pictured here in Tokyo on Thursday — dropped another hint that she may have a baby boy on the way.
Promoting her new film Resident Evil: Afterlife, Larter, 34, made a pronoun slip while talking about the idea of having a little gamer.
"Possible gamer?" she told FOX411.com.
"Well, after watching these movies and hearing all the gunfire, I don't know what he's — it's going to turn out like."

Is she expecting a "he" – or an "it"? We don't know, but one thing's for sure: Larter's pregnancy — six months and counting — makes her want to strip down.
"I'm just super pregnant, and each moment I want to take off another piece of clothing."
— Alison Schwartz