Usher's Boisterous Boys 'Wear Him Out'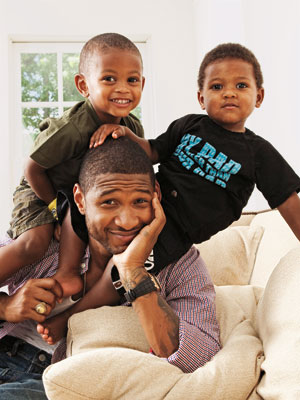 Usher V, Usher and Naviyd — Peter Yang
With two sons a year apart, Usher Raymond has his hands full – but appreciates the bond his boys share.
"They play really well with each other," the singer says of Usher V, 2½, and Naviyd Ely, 20 months, his sons with ex-wife Tameka Foster.
"They have their differences, but they're definitely brothers. They're fun to watch together and both have a ton of energy. They can wear me out sometimes, without a doubt."
His eldest "is always in everything," Raymond, 31, laughs. "He's the one who leads his brother astray – he's the instigator. He'll be like, 'Hey, let's swing from the table,' and his brother will follow him. He's the one who's responsible when they get into trouble!"

Little Usher has a sweet side as well, his proud papa is quick to admit. "He'll read books to Naviyd," explains Raymond. "Well, he can't read, but he's memorized the books and will [recite] them."
As for Naviyd, he "worships the ground Usher walks on," Raymond says. "If Usher gets something to eat, Naviyd wants the same thing. If Usher wants to watch something on TV, so does Naviyd."
Both boys are "really into the outdoors" and enjoy "bike rides and playing at the park," with their dad. "I see myself in them, which is both good and bad," notes Raymond, who just released his latest album, Versus. "They've taught me that I'm sometimes a know-it-all, that I can be demanding. They make me want to improve myself and be the right kind of father for them."
"It really hits me that I'm responsible for raising them and showing them what a real man is," he adds. "I don't know if I always do it right, but I'm trying. I have to teach them to be men – that's a really big responsibility. I hope I can rise to the occasion."
For more photos and details on Usher's life as a dad, pick up this week's PEOPLE, on newsstands now.
— Steve Helling