Review: phil&teds Smart Stroller with Peanut Bassinet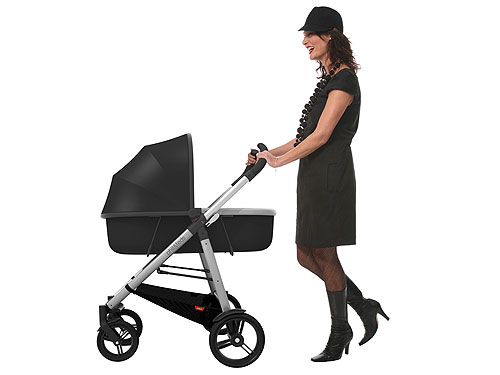 Courtesy of phil&teds
Talk about intelligent design! We recently checked out phil&teds' new Smart Compact Stroller System ($249 or $359 with Peanut Bassinet) and we love it. And we're not the only ones — Tori Spelling is also a fan.
This well-crafted, modern-looking stroller is compact and easy-to-use. Plus, it features state-of-the-art technology including the Aerocore seat. It's also extremely versatile especially when you add the Peanut Bassinet, which can hold a baby up to 20 lbs.
What We Liked: The cushy, yet firm Aerocore seat pod is amazing and like nothing we've ever seen before. Not only is it super supportive, but it's designed (ventilating, insulating and waterproof) to keep baby comfortable in all kinds of weather. It's also UV resistant so it won't crack and fade. And since it's hypo-allergenic, you can just wipe it clean after spills.
The unfold/fold was super easy and it was a breeze to take the seat off and pop the Peanut Bassinet on. If you have a Graco Infant Car Seat, you can use it with an adapter. It also comes with a roomy shade so your little one is protected from the sun at all times.
What We Didn't Like: At a little over 17 lbs., it's not exactly a lightweight stroller. We suggest using it with smaller kids aged four and under.
Moms & Babies Rating: If you're looking for a compact and easy-to-use travel stroller for your new tot, this is the one for you.
— Nancy Horn