Jessica Alba Reveals Honor's Need for Caffeine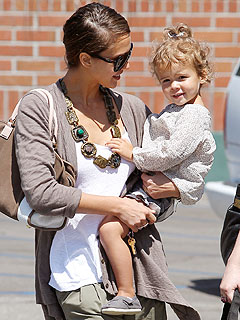 Isaac V./Broadimage
Mom Jessica Alba may be the busy Hollywood actress, but that doesn't stop 2-year-old Honor Marie from needing a little pick-me-up herself every once in awhile!
"[She talks about everything] she wants or needs. She says she needs coffee in the morning and I'm like, 'No, no, no coffee,' so I give her water in a coffee cup," the Machete star, 29, revealed during a Tuesday visit to The Late Show with David Letterman.
"She likes to have big girl cups and big boy t-shirts and princess dresses. It's crazy. I didn't even teach her that stuff!"

While she may be willing to play along with some of her daughter's special requests, Alba insists that for the most part, she holds her ground.
"She's very independent and likes to do everything that I tell her not to — so I have to lay down the law," she laughs. "I'm very strict with her. When it's time for her to eat, whether she's coloring or doing whatever … it's time to eat. So she freaks out and cries and then she gets a time out if she cries for no reason."
And according to Alba, Honor has become well-versed in the household rules. "I'll say, 'Honor, what are you doing?' And she says, 'Crying for no reason.' And then she stops because she doesn't want to go to time out," she says, adding that husband Cash Warren is a "softie" when it comes to disciplining their daughter.
Despite her stubborn streak, Honor has been an easy baby, due mostly in part to Alba's secret sleeping ritual. "She goes to bed at 7 p.m. and wakes up at 9 a.m. I don't play with that," the proud mama jokes.
"When she was six months old I would overfeed her … when they're really full they don't wake up hungry. That sounds abusive!"
Admitting that her feeding routine led to a "really chubby baby," Alba says Honor "weighed just as much at six months as she does now. She crawled, she rolled at first. She was so big!"
— Anya Leon