Family Photo: Meet Sean Patrick Thomas' New Son Luc!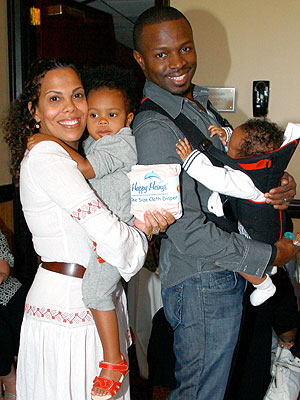 Anthony/Pacific Coast News
Can't see much of his face, but what a head of hair!
Sean Patrick Thomas totes son Luc Laurent, 3 months, while wife Aonika Laurent Thomas holds 2-year-old daughter Lola Jolie at Saturday's Boom Boom Room event in Los Angeles, Calif.
"The biggest, most important thing we will ever do beyond careers is being parents," Laurent Thomas said before Luc's arrival on June 9.
"After so many miscarriages, to be blessed with both a daughter and a son … we couldn't be happier."
RELATED: Sean Patrick Thomas and Aonika Laurent's Southern-Style Shower