Kerri Walsh's Blog: Leaving on a Jet Plane
Kerri Walsh has taken home two Olympic gold medals in beach volleyball with partner Misty May-Treanor.
But she has two even bigger accomplishments to her name: Sons Joseph Michael, 15 months, and Sundance Thomas, 3 months, with fellow volleyball star Casey Jennings.
In her latest blog, Walsh, 32, talks about how tough it is to spend time away from her boys — and why hugs are needed (and welcome)!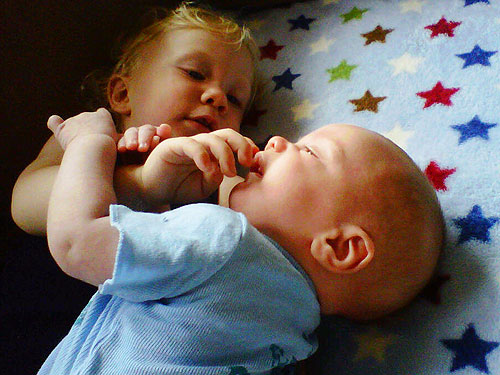 Joey and Sundance – Courtesy Kerri Walsh
I'm sitting on the floor in the United terminal, waiting to board my flight to Chicago for work. Leaving the house this morning was tearing my heart out — I'm flying solo this weekend and I'm devastated. I have been giving myself pep talks for days in preparation, but they didn't work.
My eyes are flooding and my chest is heavy. A little baby just cried out and it made me think of my boys. Are they still asleep? Are they happy? Do they know how much I love them? Two full days without them … It's been 30 minutes and I'm already struggling. How on earth will I get through this?!
This love I have is really something else. It's hands down the most beautiful thing in all the world and it's also the scariest. Why does my mind drift to terrible 'what if's'? Why, when I have so much faith in my heart and soul?
I guess it comes down to the fact that I am a control freak and the fact that I can't keep my boys constantly by my side and free from worry, harm and sadness absolutely kills me. How did my mom do it with five kids? So much love, so much worry! The love is the easy part, the worry … oh hell!
Faith, hard work, humility, family and my husband — these things fortify me on my tough days. Gosh, I could use a hug! Anyhow, to all the mommies out there — whether you have one child or 10, whether you are a stay at home mom or a working mom, I applaud you and I am beyond proud to be one of you.
This job is not easy, but it most certainly is the MOST WONDERFUL, blessed, character-building job in the world. I send you love on your good days and a big warm hug for your tough days — please feel free to reciprocate. 🙂
Love and so much respect,
— Kerri Walsh