Sandra Bullock Calls Baby Louis Her 'Little Cajun Cookie'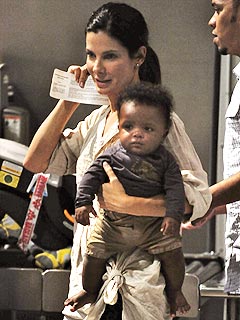 National Photo Group
Even after going through an arduous adoption and highly public divorce, Sandra Bullock says hardships like those happen for a reason.
"I think everything works out the way the universe wants it to work out," the Oscar winner, 46, says during a Today show interview set to air Tuesday.
Furthermore, baby Louis Bardo seemed to have had a place in the Bullock family even before he arrived.
"We don't have any boys in our family. Boy, is everyone really happy about that. So he's like the crown prince," Bullock tells Matt Lauer during a sit-down interview in Louis's hometown of New Orleans, where she marked the fifth anniversary of Hurricane Katrina.
"It was just the hierarchy that needed to be broken."

Reflecting on the "long, long process" of officially adopting the baby – whom she calls her "little Cajun cookie" – Bullock says the now 7-month-old "was always mine. It wasn't like I felt someone was going to take him away. But it was nice to have someone say, 'I think you're a fit parent.' "
— Eunice Oh