Kim Clijsters Whips Up Baby Food – In Her Hotel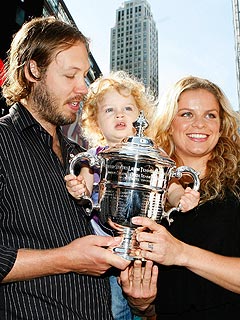 Brendan McDermid/Reuters/Landov
Many a celebrity mom has sung the praises of homemade baby food, but how many will whip up a batch of sweet potatoes in their hotel room? At least one!
"We travel with a Babycook — it's a little steamer and a grinder and so the first thing we do is try to find an organic store or food store and just buy all our groceries," tennis pro Kim Clijsters, 27, confesses to CNN.
"Then we ask the hotel to put in a little fridge or empty out the mini-bar to put all the food in there and we try to make most of her food ourselves."
Life on tour "is definitely a lot more busy" with daughter Jada Ellie, 2½, and not only because of the extra trips to Whole Foods!
"In the past, whenever I was done with practicing or massage or treatment or working out, I had all the time to myself and now I'm sharing that with Jada," Clijsters explains.
Not that the first-time mom is complaining! "It's a pleasure having her around and I wouldn't change it for the world," Clijsters adds.
Nor would she change Jada's only child status.
Clijsters says that she and husband Brian Lynch "would love to have more children" but for now, she has set her sights on making the 2012 Olympics in London.
Intent on making the most of her time as a competitive player, Clijsters says she knows opportunities are somewhat limited.
"Obviously Jada's going to have to go to school at some point as well, so that's really important to us and I didn't come back to play tennis to put my family situation in a bad situation," she points out.
"But as long as it's going well and it's working for us then we'll keep going."