Jenna Elfman's Son 'Gets Bored' with Baby Brother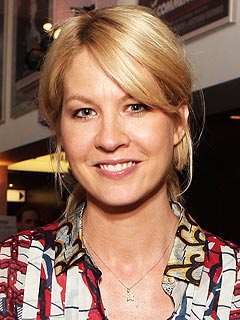 Eric Charbonneau/WireImage
As mom to a toddler and newborn, Jenna Elfman doesn't have to worry about sibling rivalry just yet — son Story just isn't interested.
"My 3-year-old, he'll be curious about the baby but [Easton] is still only five months old — it's not like he's talking and interacting just yet," Elfman told PEOPLE Moms & Babies at Dior Beauty's private luncheon benefitting Operation Smile recently.
"Story just gets bored and goes back to his toys and trains. He'll give him some love and a little kiss and then is like, 'Okay, bye.'"

Not that being a mother of two young sons is without challenges. Time can be limited so choosing a chic, effortless wardrobe is essential when it comes to style.
"It's important to have a few really great basics and just invest in some key things," says the former Accidentally On Purpose star, 38. "Then you can throw on jeans and a tee shirt with a great jacket, bag and pair of shoes and you're good. Your hair can be up in a messy knot and you look cute."
Despite being blessed with a naturally thin, 5'10" frame, Elfman says she is "still working on" getting back to her pre-baby weight with the help of nursing and exercising.
"Breastfeeding, I don't know how it works — and it doesn't work for everybody — but it's helped me," admits Elfman. "Then I just get moving — I get on the treadmill, I do stairs, walk in the hills and do free weights … I started to go to dance class too."
— Michelle Ward