Norah O'Donnell and Husband Whip Up a Cookbook
With a professional chef at home in husband Geoff Tracy, it should come as no surprise that Norah O'Donnell is a bit of a foodie. The couple's culinary pursuits went into overdrive after welcoming their three children, however, and is now yielding fruit of its own in the form of Baby Love: Healthy, Delicious Meals for Your Baby and Toddler.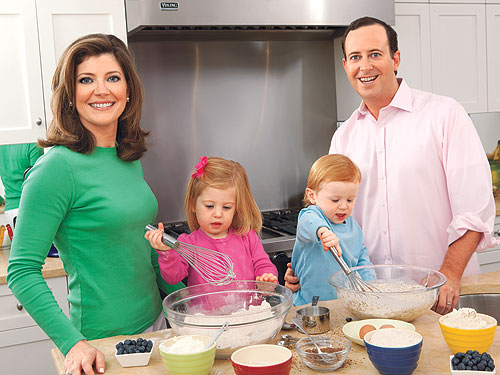 Norah O'Donnell, Grace, Henry, Geoff Tracy – Timothy Devine
Parents need to keep an eye on the future when dealing with the everyday question of what to feed baby, the first-time cookbook author tells PEOPLE. "[It] will affect them for the rest of their life," O'Donnell, 36, explains.
Not only is brain development most rapid during the first year of life, but lifelong food habits — both good and bad — are being shaped. "They say from nine to 18 months you'll have this opportunity that you'll never have again to put almost anything in their mouth; That's important," she notes. "You're training a palate to like different things."
Case in point? Twins Grace and Henry, 3, and daughter Riley Norah, 2, all have an affinity for guacamole — with cilantro.
"It's easily digestible and adds a lot of flavor," Tracy points out. "I think it's one little opportunity for a young child to try a unique flavor. Our kids eat cilantro on a regular basis."
Reaching for a jar of store-bought baby food is often a decision borne of convenience, but O'Donnell suggests parents overestimate the time and financial commitment involved with making their own. By freezing small portions in an ice cube tray, the MSNBC correspondent and Today show commentator says she spends "an hour every two weeks" making fresh baby food for her brood.
Keeping the ingredient list short helps streamline the process.
"I'm not a professional chef and I'm certainly not a very good cook," O'Donnell concedes, "but it was very easy for me to prepare a recipe."
One morning while "rushing off" to work, O'Donnell says a nanny noted that food was running low. "I raced off to the store, bought a bunch of organic apples so I didn't need to peel them, cut them up, steamed them and put them in the blender and voila: I had applesauce," O'Donnell recalls. "And the house smelled beautiful."
After searching for a cookbook that advocated a less-is-more approach to making baby food and coming up empty, the couple — who've "never purchased a jar of baby food," Tracy says — realized that a need was going unmet.
"The goal is to help millions of busy parents out there like us … especially parents who want to champion a healthier approach to food," O'Donnell says. "This is so easy. It's green and it's so much cheaper. It's really a no-brainer," she adds.
"That's what the book's supposed to be about. It's not pretentious. It's easy. And we hope it really helps people."
— Reporting by Liza Hamm