Team Effort Key for Erykah Badu's 'Little Tribe'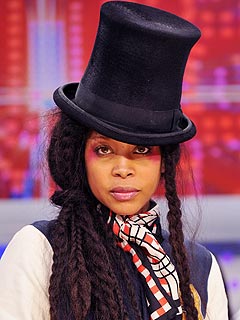 Bryan Bedder/Getty
She might be a single mom, but Erykah Badu says son Seven Sirius, 12, has been co-parented by dad André Benjamin every step of the way.
"He spends a lot of time with his son and is present for every program, every report, and has him in the summer," Badu, 39, explains to Working Mother.
"Seven is getting to an age where he needs his father more, and his father has made himself available … He's like an encyclopedia for his son."
The lessons he's learned are taking hold, and Badu says that Seven benefits from all the one-on-one time with dad. "He makes very good decisions," she reveals.

Her other children — Puma Sabti, 6, and Mars Merkaba, 18 months — also spend time with their fathers, even if it's not always in-person. Of her youngest child, Badu reveals,
"Even though she's one, when she sees somebody walk off with a computer, she gets upset, because she thinks that's her daddy [on video chat]."
It would be a mistake for an outsider to judge her relationships, Badu says. The singer/songwriter goes on to call her children's fathers "my friends, my supporters, my confidants."
"We have a great team effort going on, and each of the fathers support one another's children," she reveals. "This is a little tribe."
That spirit of helping is apparently infectious, for Seven, Puma and Mars are always eager to lend a hand.
"Whenever they see me or anyone else needing a hand, they ask if I need help, or they just start helping," she explains. "A lot of people ask, 'Do you need help?' hoping that you'll say no. My children ask hoping you'll say yes."