Green Alert! Apple Park Debuts Adorable (and Eco-Friendly) Plush Toys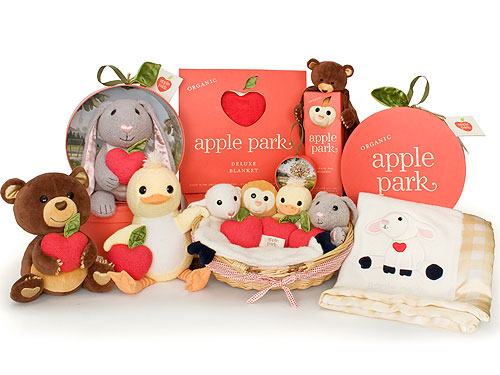 Courtesy of Apple Park
Now that baby's here, you've gone all green. But it isn't easy finding cute playthings that are safe.
Enter Apple Park — a new collection of eco-friendly plush toys and blankets made from the good stuff (100 percent organic cotton, natural silk, non-toxic recycled plastics, sustainably-grown corn filler, soy fiber and hemp). Even their packaging is 100 percent recycled. It's no wonder celeb moms including Tiffani Amber Thiessen, Constance Marie and Christina Milian are fans.
Mom-of-two Angie Ting came up with the idea of starting the line after her son developed allergies to the harsh chemicals used to make his seemingly harmless toys. So, she teamed up with mother-daughter design team Chloe and Susan Pate of Pate International to create the lovable, hypoallergenic collection.
Our favorites: The Lamby Picnic Pal ($48), which comes with an adorable apple rattle, and the fun Soft Blocks ($30). To find stores, go to ApplePark.com.