Jennie Finch on Making a Hotel a Home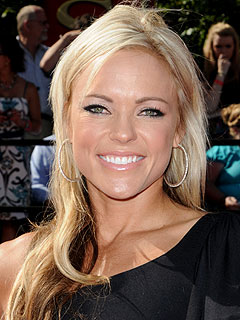 Sara De Boer/Startraks
Home is where the heart is has become a saying Jennie Finch knows all too well.
The Olympic softball player and her husband, Houston Astros pitcher Casey Daigle bring their 4-year-old son Ace Shane on the road with them — and are learning to adjust to their ever-changing surroundings.
"It can be an emotional rollercoaster because you look forward to the time you have with your family and then all of a sudden it's only two days," Finch tells Babble.
"We all try to enjoy the time that we do have together and know that it's only for a short while, but we're making the most of it."

Fortunately, however, the family's nomadic lifestyle has its fair share of benefits.
"It's a great lesson because we all find ourselves unable to get attached to any physical thing. It's more enjoying what we have together," she explains. "Our only real time together is in a hotel room because we don't really have a home."
Although life-on-the-go is becoming increasingly difficult as Ace gets older, Finch raves her son handles the changes like a pro — except, that is, when it comes to saying goodbye.
"He puts up with a lot. He's on a plane two or three times a week, and he just rolls with it," she admits. "Now that he's starting to get more expressive and can ask thing like, 'When is daddy going to be back?' it's becoming a huge sacrifice to be away."
Citing the family's separation as one of their "bigger challenges," Finch and Ace have plenty of close friends — her teammates! — to keep them company.
"Last night we had three girls in here hanging out with him and playing basketball in the halls and throwing the football in the outfield with him," she shares. "I feel so blessed that they're so good to him, and they enjoy having him around."
Still the negatives have begun to outweigh the positives and Finch — who turns 30 next month and hopes to expand her family — has decided to retire. She will play her final professional softball game on Sunday, Aug. 22.
— Anya Leon