Holly Robinson Peete Covers Toy Guide for Differently-Abled Kids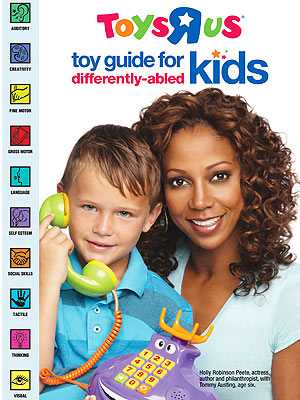 Courtesy Toys 'R' Us
As they build their budding developmental skills, all babies benefit from playtime with age-appropriate books, toys and games.
For parents of children with special needs, however, playtime often carries a different significance — it can be a place where breakthroughs are made or frustrations boil over.
Holly Robinson Peete knows this better than most. Mom to RJ, now 12 and diagnosed at age 3 with autism, the Celebrity Apprentice star fronts the 2010 Toys 'R' Us Toy Guide for Differently-Abled Kids.
She tells PEOPLE Moms & Babies she hopes parents will view the guide — now in its 16th year — as a resource, resulting in more informed, more constructive gift-giving for children with developmental disabilities.
"While raising RJ, I saw the importance of selecting the right toy," Peete explains. "Being able to show everyone buying a gift for RJ which toys he could use to build the skills he was working on was very helpful."

More often than not, Thomas the Tank Engine toy trains fit the bill! "[They] were the ones RJ gravitated to the most when he was younger," Peete reveals, adding that RJ wasn't the only one to benefit.
"We were able to interact with him the most while playing with them," she says. "Since all the vehicles had odd yet lively names and personalities, I feel strongly that this particular toy brand had a tremendous positive social impact on him."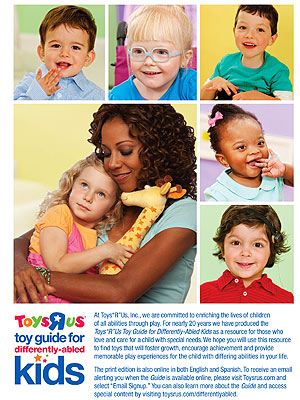 Courtesy Toys 'R' Us
Each recommendation is based on research from the National Lekotek Center, which also contributes its ten tips for buying toys.
All gifts are given with good intentions, the organization notes, but they might not be a good fit for the special needs child; To that end, relatives and caregivers should ask pertinent questions before purchasing, like "Will the toy provide a challenge without frustration?" or "Can play be open-ended with no definite right or wrong way?"
Peete points out that each toy featured in the guide is an "everyday plaything" that is regularly found in stores "so every child can play with these toys alongside their friends, brothers and sisters."
What sets the guide apart is the way in which it is presented, with each toy labeled with different icons denoting which skill they enhance: auditory, self esteem, creativity, thinking, language, social, visual, tactile, gross motor and fine motor. The guide makes a point of not categorizing toys by disability nor by age, and a toy selection index even sorts and lists the toys according to the skill they help to build.
For a copy of the Toys 'R' Us Toy Guide for Differently-Abled Kids visit your local Toys 'R' Us or Babies 'R' Us, or download an electronic version by clicking here.