Marcia Gay Harden on the Latest Budding Actors: Her Kids!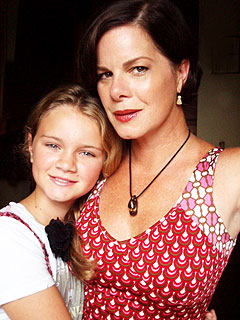 Courtesy Thaddeus Scheel
Marcia Gay Harden certainly knows how to stay balanced.
The mom of three — 12-year-old daughter Eulala Grace and 6-year-old twins Julitta Dee and Hudson — continues to manage her award-winning career (she's nabbed a Tony and an Oscar!) while still flying under the radar with her family in New York City.
When she's not relaxing in the Catskill Mountains with the kids and husband Thaddaeus Scheel, Harden can be seen on the USA Network's Royal Pains (Thursdays at 10 p.m. ET) and in the upcoming animated feature, Noah's Ark: The New Beginning.
Harden recently spoke to PEOPLE Moms & Babies about her children (all budding actors!) and her work with Bausch + Lomb's new back-to-school vision screening campaign, Seeing Eye to Eye.
How are your kids doing?
The twins are fantastic! And Eulala, she's in middle school. They're all doing great.
We spend the summer upstate in the Catskill Mountains — we live on a lake up there. They spend a lot of time waterskiing, canoeing, hiking and making blueberry jam. This year they put in a garden with me. So we had a pretty great summer. It's been relaxing. We go back and forth to the city a little bit. But no other big travels this summer.
Do you enjoy raising your family in New York City?
I do. I think they're exposed to an awful lot out here. We live in Harlem, and there's wonderful diversity up there. We have the space in Harlem that we need for the family. You can go to any place — museums, Central Park — it's just genius all the things you can do here.
But I also feel fortunate, when I was a student I was only in the city, and there are just those times you need to get away. Nature's a huge part of what we value with the kids. So I feel fortunate that we can go upstate almost every weekend since it's only an hour and a half away, and have a big shot in the arm of that space and nature and blue sky.
You've mentioned before that you're big on arts education. Do your kids attend schools where that's a focus?
They're all in schools where they have a fantastic art education. Everything from painting and shop class to singing and instruments. And that's important to me because I just think that the mind of a child is broadened by artistic vision on some level.
I think it's important for a child to allow his or her imagination to flow, to just be creative, and not to have to follow the rules. Certainly their schools are ripe with history and math and language, all of those things. But I think arts education is hugely important. It's unfortunately not funded enough in our country — it's considered secondary, I think, to math skills and getting into a great business school.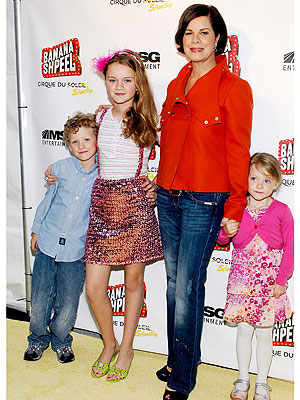 Joe Corrigan/Getty
Have your children taken to the arts?
All of them have, very nicely.
Eulala has done some movies, and Julitta will be the first to tell you she's done a movie. She had a teeny little role with Lucy Liu in a new film! And Hudson is dying to do movies, although I think he's suited for the stage: the boy has a clarion voice that I'm sure you can hear to the back row of [New York's] Mitzi Newhouse Theater.
But what it is, is that they like to express themselves. And that's what art is, you express yourself, and express and interpret the world around you. Not just in acting, but in a myriad of ways.
Did you ever have a conversation with your children about them going into acting?
I don't consider that they've "gone into acting," I consider that they're each discovering who they are and what they want to be. But because I'm their mom, it's been available.
So far all of Eulala's films have been with me. She's had fantastic auditions lately for films that aren't with me, and she gets very, very close, so I think it's something that she wants to do because it comes her way. If you asked her, she would tell you she might rather be a spy, or an animal rights activist, possibly an actor, certainly a mother. She's just out there imagining what she wants to do.
Has it been fun to do films with Eulala?
It's been great! She's a wonderful actress, and she has a great capacity to express herself. It was easier when she was younger, because now it's 'Mommmm! That's not what I was thinking! That's not what I was doing!'
To open a child up to a greater depth can sometimes feel to them like you're being pushy or controlling, whereas if it's someone else directing her or asking her to do it, it would feel like a great conversation. So that's just part and parcel of being a mom — you know that there's a moment when your voice is not necessarily the voice they want to listen to anymore.
How do you balance your career with motherhood?
There's no balance! There's just a constant endeavor to balance. The ball's in the air all the time, except when it drops. It used to be, when I was a younger mom, I never wanted the ball to drop. I wanted to keep it in the air all the time. And now I get it — the ball's dropped. Bend down, pick it up and keep going.
Parents make mistakes, kids make mistakes, but I think if you have a dialogue with your child that's very basic, and see eye to eye with your child, you can keep the channels open and not be so hard on yourself.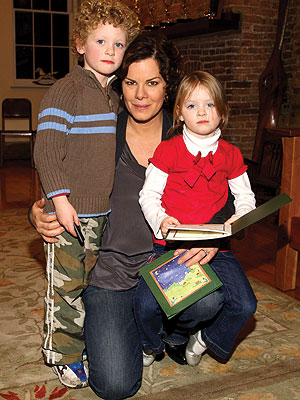 Bryan Bedder/Getty
How is your husband with the kids?
Most of the time we balance.
Children are a glorious, glorious hijacking. That means both parents have to be on board with the vast amount of details in this fast-paced world that we live in, to keep the kids on track and to keep each other on track. I think that that can put a strain on anyone.
My husband and I have a fantastic marriage, a fantastic dialogue, and he's a great, great guy. We would both say I'm more hands-on with the kids — I don't know if I assume it's my right because I'm the mom, or that I just do it because I'm a better multitasker. But either way it is what I do. I'm the hands-on person, and he's so helpful.
Why did you team up with Bausch + Lomb for 'Seeing Eye to Eye'?
First of all, it's a back-to-school campaign, and when you do the research, you find that there are a lot of kids who need vision correction that don't know it, and their parents don't know it. In this day and age, schools ask for eyesight tests, but not every year. You can really improve a child's performance in school if you realize that there needs to be a vision correction.
There are also a lot of kids who want to change from glasses to contact lenses, and in my day, contacts were hard, they were difficult and parents didn't feel like kids were ready for that responsibility. Now, with contacts like the SofLens Daily Disposables, it's easy, it's a no-brainer. They're affordable, for one. They're easy to keep clean because they come in their own little packages for cleanliness, and kids can't lose them because every day they get a new set.
For us it was a very easy transition. Eulala didn't actually transition from glasses to contacts; she had a correction she needed, and we used contacts for the correction. But I wouldn't have considered contacts before because there weren't the disposables, and lenses were much harder.
I personally use the multi-focal, for reading and now for driving. The glasses arrive on the 40th birthday cake and they just keep getting thicker and thicker!
— Kate Hogan