Jennifer Garner Hopes Healthy Habits Will Rub Off on Daughters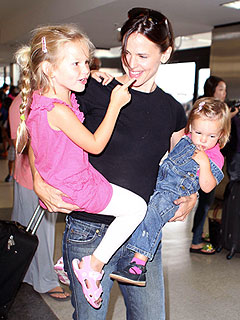 GSI Media
For mom-of-two Jennifer Garner, the effort to raise healthy children requires leading by example.
"I think if your kids see you exercising they'll grow up exercising," she says in a recent interview with iVillage.
"They'll assume that it's always part of life; If they think it feels good to move your body, they'll want to do it as they get older."
In fact, most days daughters Violet Anne, 4½, and Seraphina Rose Elizabeth, 19 months, sit down to breakfast with a post-workout Garner.
"[They'll ask] 'Where were you?'" Garner reveals. "[I tell them] 'I was just working out, it's important for me.'"

The food on the table often reinforces that healthy message. To that end, Garner says she offers fresh produce whenever possible — and gets creative when she has to!
"My big thing with vegetables lately is, 'How many colors are you going to eat tonight?'" she shares. "Choose your colors."
Timing is everything, of course, and Garner says there is a definite strategy in place.
"I put them out when everybody is hungry, while I'm cooking and trying to get dinner on the table [because] I'm the worst at that," she admits. "The last 10 minutes the kitchen goes to hell in a hand basket, [but] that's when I try to have broccoli, sugar snap peas, peppers. My girls will eat red and yellow peppers. I'll put all of that out and see what I can get down them."
Getting the girls to stay put is a different matter entirely, but Garner, 38, says she's enjoyed success by keeping an eye on the clock.
"Different things work for different people," she notes, "[But] instead of talking about how many bites you eat, I set a timer for how long you are sitting at the table."
"So I say, 'We're going to sit and talk, all together, and when the timer goes off you can ask to be excused," she adds. "And so far, because [Violet] has to sit there … so far so good."