Go Modern with the New HiLo Highchair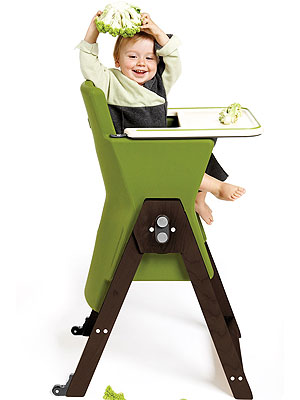 Courtesy of HiLo
If baby reigns supreme in your house, treat him like a king with the HiLo highchair ($315) by AGE Design Kids.
From its sleek lines to its yummy colors (blueberry, asparagus, carrot), this cool chair is a must-have for design-loving parents.
But it doesn't just look good — it's chock full of high-tech features including a molded non-slip seat that's just as comfy as padded versions.
And unlike other highchairs, it uses laminated fabric tabs in place of the traditional tray locking mechanism, which is impressive because not only does it remove the risk of pinching mini fingers, it means one less place for food to accumulate.
However, the overall best feature is the nifty way it switches from a high setting (for baby) to a low setting (for bigger kids) by making a completely rotating within its frame. Simply pull out the two aluminum buttons on either side of the chair, push the seat forward and tilt it upright to make the change.
And at the lower setting, the HiLo is still higher than a standard table chair so there's never a need to buy a booster seat.
Although pricey, the high-quality construction and the fact that you can use it from 6 months to 6 years makes it all worth it. Seriously, you'll wish you had one for yourself!