Many Hands: Family-Friendly Tunes that Give Back to Haiti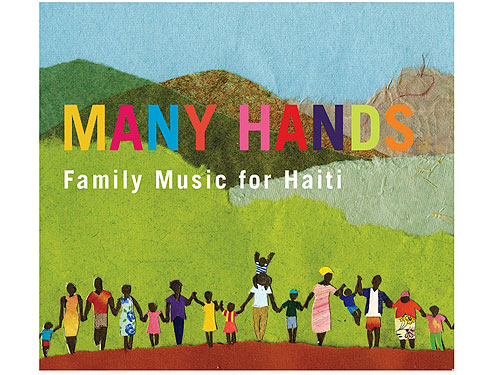 Courtesy of Spare the Rock Records
After the Jan. 12 earthquake that destroyed much of Haiti, family musician Dean Jones found himself feeling helpless and desperately wanting to help the country's people.
Jones — who is also lead vocalist of kid-friendly band Dog of Fleas — felt a strong urge to do something that could help the ongoing rebuilding effort. It didn't take long for him to come up with the idea to create a benefit album or to convince several of his fellow family musicians to sign on.
"When I had the idea for the CD, I knew without a doubt that I could count on the big-hearted kindie community," says Jones. "The generosity and the amazing work of all the musicians and everyone involved definitely exceeded my initial expectations."
To make it happen, Jones tapped music producer and KindieFest cofounder Bill Childs, who along with his kids, produces the weekly radio show Spare the Rock, Spoil the Child.
The result: Many Hands: Family Music for Haiti ($12, Spare the Rock Records) — a unique collection of 22 previously recorded and original songs filled with uplifting messages from artists including the legendary Pete Seeger to kid hip-hop star Secret Agent 23 Skidoo.
Our favorite tunes include Bonga & The Vodou Drums of Haiti's drum-heavy "Activity," Emily Curtis' soothing "We Belong" and Recess Monkey's folksy and fun "Fiddlehead Fern." Take a listen to the album at Amazon.com. We promise, you and your little ones will be bopping your heads in no time.
All proceeds from the release will benefit the Haitian People's Support Project.