Marisol Nichols' Blog: Tricks of the Trade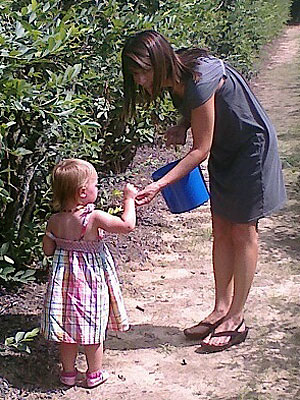 Picking blueberries – Courtesy Marisol Nichols
Thanks for welcoming PEOPLE Moms & Babies' newest celebrity blogger — Marisol Nichols!
The actress and husband Taron Lexton are parents to 22-month-old daughter Rain India.
After spending the spring and summer based in Shreveport, Louisiana as she filmed The Gates, Nichols, 36, is now back home in California and reflecting on her recent experience down South.

In this week's blog, Nichols talks about her tips and tricks for flying with her little girl, as well as how she kept Rain entertained in Shreveport — with Gymboree, Target, blueberry picking and taxidermied animals!

Nothing really prepared me for the amount of work, or the amount of rewards, that came with being a new mom. It was a whole new world for me, and what I found invaluable was the advice and experience of my friends, their mothers, grandmothers and all the other moms out there with their wealth of experience. I am forever grateful for all the "tricks of the trade" known to mothers everywhere, both seasoned and relatively new, and I hope these help you too.
First – travel.
Rain, thank goodness, is an excellent traveler. She's been flying with me since she was a little baby. At first I was worried about taking her on the plane, but had gotten lots of good advice from fellow moms. One of which was to be sure she's sucking — whether breast or bottlefeeding — when the plane takes off and lands, to protect her ears. I would also make sure I sat by the window with my husband next to me. I had a Hooter Hider when she was really young and transitioned to a bottle as she got older. We would be sure to time it right for take off and landing. It worked like a charm! No screaming baby, whew!
As Rain got older, she began to understand what was happening with the plane. Okay. Different ball game.
It had been about six months since our last flight. Rain was around 14 months old, and I very clearly explained to her while looking out the window of the plane that we were going to go, "Up, up, up … in the sky!" I must have said it to her at least five times, until I knew she really understood. And I made sure that I wasn't scared or worried or nervous for her, since she can pick up on mama's emotions.
We also watched all the other planes go "up, up, up" while we were waiting for takeoff. She began to say, "Up, up, up!" as she watched. I basically made flying into kind of a game, a ride. We looked out the window as we started to go down the runway and I said, "We're going faster and faster, and then up, up, up!" We looked at the clouds and she saw we were "up." Once we were in the air, she would look out the window and see all the "baby cars," "baby houses" and "baby trees." It was fun! When we landed, she said, "More?" I was so happy – and relieved. Fortunately, there was a connecting flight so we did it all over again.
Since then we've taken about 15 or so flights and she's loved every one of them. Now whenever she sees a plane she says, "Up, up, up." I can't even take her to the airport with me when I pick up friends anymore because she cries that she's not going on the plane.
About five months ago, I temporarily moved from our home in Los Angeles to Shreveport, Louisiana. Being in a new city with a toddler can be a bit of a challenge. Towards the end of my visit the temperature got to be over 100 so that's when I had to get really creative.
We arrived at our new home and I didn't know anyone. And again, being the only cast member with kids on location, I was kinda on my own. I'm used to a big city with a thousand options, so the internet quickly became my best friend. Gymboree, I love you! Shreveport had a Gymboree!
I'd also get the inside scoop from other moms. I'd see a mom at a park and I would say, "What do you do here?" They must have thought I was crazy, but I've found there's an unspoken bond between moms. When I told them I just moved, they completely understood. And the people of Shreveport are so warm and friendly.
There was a good selection of parks, which made me feel a little better but there's only so much park-going you can do, especially since it was getting hotter day by day.
Rain wanted to see "aminals," but there wasn't a zoo within 100 or so miles of Shreveport. However, there were pet stores. Thank you, Critter Co., for letting me visit over and over! We would spend afternoons there and the owners were so kind that they'd let us take out a puppy and play. They had rabbits, guinea pigs, kittens, mice. She loved it! Can't thank those guys enough! But even pet stores can get boring if you're doing it day after day.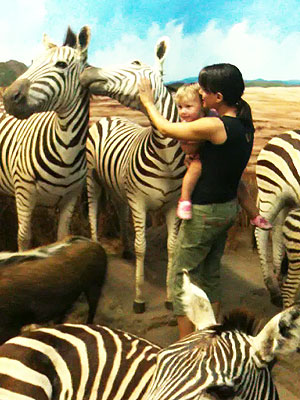 Up close with the zebras – Courtesy Marisol Nichols
I discovered an "animal museum" – basically a taxidermy museum filled with stuffed animals. I don't know about any of you but taxidermy kinda freaks me out. As it turns out the Touchstone Wildlife and Art Museum been family owned and operated for generations. Apparently, the animals get donated from zoos all around the world after they pass away. That made me feel a little better. There were stuffed zebras, giraffes, armadillos, elephants, tigers and tons of species of animals I've never heard of. Rain calls them "babies." She was so excited she could touch the "babies" and get to see her "aminals."
I also took Rain on a hayride, to a farm, milked a goat and picked wild blueberries. For a city girl, these things were AMAZING to me and I could write a whole blog on that — but trying to keep this short. Other than finding cute, kitschy places like the museum or adventurous outings like goat milking, I also discovered I could waste hours in the toy aisle at Target in the a/c, thank you, thank you, thank you! She'd bounce the balls, and see all the toys and loved it. I'd buy a toy each time as my "price of admission." And honestly I kinda dare anyone to walk into Target and not buy something. There's always something we seem to "need," right?
There was also a Barnes & Noble where I was pleased to see other moms doing the exact same thing I was doing – hanging out in the children's section. Books galore!
What about a mall? They usually have play areas… I found a mall but alas, no play area. So we made our own. The stores were closed on Sundays but the mall would leave their doors open. Again, air conditioning — yay! Rain would spend time running up and down the mall's corridor to her heart's content. She could scream and hear her echo. It was glorious! Needless to say, as time went on, I got more and more creative.
One time, I fearlessly drove 3½ hours to the nearest amusement park. Yes in 90-100 degrees, oh boy! Not recommending that. Drove back the same day and Rain slept the whole way home — thank you, honey. I timed it out so her going to sleep time would coincide with the drive. Worked perfectly but I was exhausted the next day! Worth it though. She had a blast!
I gave up on trying to wean her off the bottle completely since I'm tackling potty training. Gotta get her ready for preschool and don't want to try two new things at once. WISH ME LUCK! I'll keep y'all informed!
Thanks for reading! Feel free to follow me on Twitter and keep up with me on Facebook, or you can check out The Gates — it airs Sunday nights at 10 p.m. on ABC.
To all you wonderful moms out there, I love you so much! Moms rock!
— Marisol Nichols