Mariska Hargitay Skips Sleeping In for Sake of Family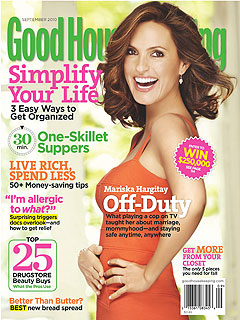 Courtesy Good Housekeeping
If there was ever a moment that Mariska Hargitay suddenly felt a strong connection with her late mother Jayne Mansfield, it was when the actress became a mom herself to August Miklos Friedrich.
"I understand her in a new way that gives me peace," the Law & Order: SVU star, 46, reveals in Good Housekeeping's September issue.
"Being a mom has been healing. Now I understand the love she had in her, and it makes me feel closer to her."
Together with husband Peter Hermann, raising 4-year-old August in a tight-knit home is non-negotiable for Hargitay.
To that end, the family skips sleeping in on the weekends, instead waking up to cook "a whole big breakfast extravaganza with pancakes, bacon and eggs, oatmeal and apples."

Equally as important, is ensuring the couple's only child learn his manners — and learn them well! "August has great manners, and I am very proud of that," the proud mama notes. "We are on him like white on rice about looking into someone's eyes if you are saying please and thank you or apologizing."
A strict bedtime routine, however, is one area where the Hargitay-Hermanns take a more relaxed approach. "Bath time is such fun. I get in trouble with Peter because I'll stay in the bathroom with August for hours just laughing," she reveals.
"It's a special bonding time and lots of interesting things come out when he is downloading the events of the day."
Often, the final call for lights out comes hours later from dad! "Peter will come in an hour and a half later and August and I will be wrestling on the bed, and Peter will be like, 'Bedtime!'"
The ritual makes up for their time apart when Hargitay is caught logging long hours on set. Fortunately, the mother-son duo use technology to their benefit, as they schedule video chats throughout the day.
"When you love your kid, there's a string that attaches you, and you are always connected even when you are doing other things," she says, adding that along with fellow moms Maria Bello and Debra Messing, Hargitay sends out a Monday e-mail filled with cute photos of the children.
And although she remains in constant close contact with August, the pain of missing out on all of life's littlest moments is always present.
"I get jealous that other people get to take August to school and pick him up," Hargitay admits. "It's hard for me to go to his school and not know all the parents. They all know one another, and it's a community. I can't always be a part of that. You can't have everything, though."
— Anya Leon