Samantha Harris's Pregnancy Surprise – After Multiple Negative Tests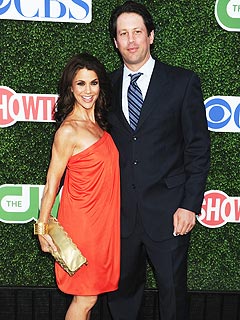 Jennifer Graylock/AP
Samantha Harris had a feeling she might be expecting so she did what many women do: Used a home pregnancy test.
She learned, however, that it's not always safe to trust the results.
"It's so funny, at three and a half weeks, I took a pregnancy test and it came out negative. Then I went to London and Cannes for shoots and having a good time," the Entertainment Tonight correspondent and fill-in anchor, 36, tells PEOPLE.
"Eight weeks is when I finally had a couple of really nauseous spells, and my husband said, 'Well, maybe you really are pregnant.'"
"I thought, no, it couldn't be. The other tests came out negative!" she recalls. "Sure enough, I was."
Expanding the family – Harris is a bit over four months along with the couple's second child – was something "that was in the plan," she says, so after initial disappointment with outcome of the tests, "it was a very wonderful surprise at eight weeks to find out that I, in fact, really was pregnant."

Harris kept the news under wraps from daughter Josselyn Sydney, who turns 3 in September, but it didn't take long for the preschooler to sense there was another family member on the way.
"She very instinctually looked at my tummy – because I was definitely popping pretty fast the second time around – and she said, 'Mommy, you have a baby in your tummy.' I was caught off guard," says Harris.
"We weren't quite ready to tell her yet, so I just sort of changed the subject," she says. "Then finally when we did … it was really fun and she was really excited."
The former Dancing with the Stars co-host says she's feeling "fantastic," even though she realized one drastic change from her first pregnancy.
"I found myself much hungrier in the first trimester. I felt ravenous," she says, adding that she's taken advantage of summer fruits such as nectarines, peaches and strawberries to satiate her cravings.
As for finding out the sex of the baby, Harris says she and husband Michael Hess will wait until the new addition arrives – "much to the frustration of my family and friends."
"We didn't find out beforehand with Josselyn," she explains. "We loved having the last possible real surprise that life can offer, so we're going that same route."
Do they hope to continue growing the family?
"My husband and I both come from two-child families and I think that's where we'd like to be, but you never know what the future brings," she says. "I think that's all we're planning, but again, you can only plan so much in life."
— Eunice Oh with reporting by Jessica Wedemeyer