Kerri Walsh's Blog: Traveling with the Tribe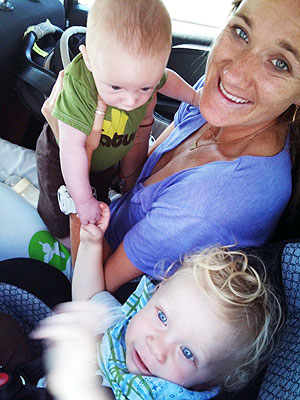 Courtesy Kerri Walsh
Kerri Walsh has taken home two Olympic gold medals in beach volleyball with partner Misty May-Treanor.
But she has two even bigger accomplishments to her name: Sons Joseph Michael, 14 months, and Sundance Thomas, 3 months, with fellow volleyball star Casey Jennings.
In her latest blog, Walsh, 32, tells us about her family's crazy weekend trip to the Bay Area — flight delays, baptism meltdowns and all.
Click below to read this week's entry.


Our little tribe took a trip to the Bay Area this past week. We departed LAX Wednesday afternoon — trying to time our flight with Joey's nap time! After two flight delays, a few prayers for an uneventful flight and a whole lot of misdirection for our eldest, who wanted to do laps up and down the aisle, we landed in San Jose intact.
Because of the flight delays, we had to hit the ground running. We hustled to the rental car place, drove to my parents for a five minute outfit change so we could then make it to St. Mary's church in Los Gatos, where we had a 6:30 p.m. baptism scheduled for the boys and their new baby cousin, Maizi. Holy holy moly!
Dressed like little angels in all white outfits, our boys were baptized into the Catholic church. We were so proud, exhausted and busy keeping Joey — who was on the verge of a major breakdown having missed his nap and being up past his bedtime — semi-happy and sob-free as the kind and patient priest did his best to get through the ceremony. Sundance was calm as could be when the priest approached him with the oil and eventually poured the holy water over his sweet little head. Joey, on the other hand, wanted nothing to do with anything. He had had it! Poor little guy.
Anyhow, we followed up the baptism with a family BBQ, then got back to our place where we all crashed around 9 p.m. — way, way, way past Joey's bedtime. What started out well soon got crazy as Joey started screaming. We brought him into bed with us and just as we got settled and ready to sleep, lil' Sundance got hungry and started crying in his Pack 'n Play. Goodness!
We survived that night and all woke up a little bit wrecked but happy. That was until we found out that the tour Casey and I compete on, the Nivea AVP tour, was ceasing operations for the year. What the?! Such a sad day, made even more sad when we realized Casey would have to go overseas for two straight weeks to compete on the international tour. He's already been away for a total of six weeks since Sundance's birth and the idea of two more weeks was devastating to us all. But you gotta do what you gotta do and Casey said a reluctant goodbye to me and the boys on Saturday.
So to recap…
Wednesday: Leave in the afternoon for the Bay. Crazy flight, but it was only an hour so not too bad! Boys got baptized. Sundance loved it. Joey did not. LONG night.
Thursday: Tour folds — temporarily! It'll come back stronger than ever in 2011! Casey gets call to go to Europe — Finland and Holland, specifically. Hang out with family.
Friday: Crack of dawn road trip home. Six hours in the car with two baby boys — that should tell you how much we enjoy flying with the kiddies. Between a one hour flight and a six hour car ride we decided to drive! Home Friday afternoon.
Saturday: Casey leaves.
It was quite an adventuresome four days! Considering that we will be traveling the globe these next two years trying to qualify for the 2012 Olympic Games, I guess it's a good thing to have trips like these. Practice makes perfect!
Love and deep breaths,
— Kerri Walsh