Angelina Jolie 'Learning Patience' from Kids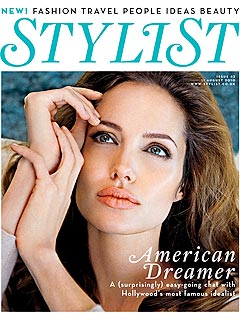 Courtesy Stylist
Total acceptance is something Angelina Jolie strives for — not only for herself, but also for her six children with partner Brad Pitt.
The Salt star tells Stylist that while Maddox Chivan, 9, Pax Thien, 6½, Zahara Marley, 5, Shiloh Nouvel, 4, and 2-year-old twins Knox Léon and Vivienne Marcheline all have some things in common — "they're so knowledgeable, they're so self-aware, so gracious," Jolie, 35, raves — their differences continue to predominate.
"One of them is a natural leader and has this kind of strength, and one of them has extraordinary grace and elegance and femininity that I didn't realize you could be born with," she says.
"Like every mother, I'm learning patience and all these wonderful things from them and I'm just so curious to see who they're going to be when they're older."

When questioned about the decision to dress daughter Shiloh Nouvel, 4, in masculine clothes, however, Jolie insists that the decision was never hers to make. "It's not my choice," she says.
"I have a very strong-willed 4-year-old girl who tells me what she wants to wear and I let her be who she is," Jolie explains, before revealing she all-too happily obliged Shiloh's tearful plea for short hair.
"I'm not going to leave it long because somebody thinks I should," Jolie adds. "I want to do what's in her heart and what's in her heart is to dress like that. I think it's beautiful."
Zahara, in stark contrast to her little sister, "dresses very much like a girl, very pink and flowery, very feminine," Jolie goes on to point out.
"I think children should wear what they want and express themselves, so we give them different options of things," she says.
And while Jolie might have made headlines as a daredevil on the set of action films like Wanted and Mr. and Mrs. Smith, she insists "a few" of the kids give even her a run for her money.
"[They] are so much worse than me," she admits. "They make me nervous all the time."
The couple — who recently hosted a go-kart-themed birthday party for Maddox — refuse to employ a do-as-I-say-and-not-as-I-do approach, however.
"There's nothing I can do or we can say because Mommy and Daddy do it all the time," Jolie explains, "so we've got to just keep bandages [around]."