Review: Maxi-Cosi Mico Infant Car Seat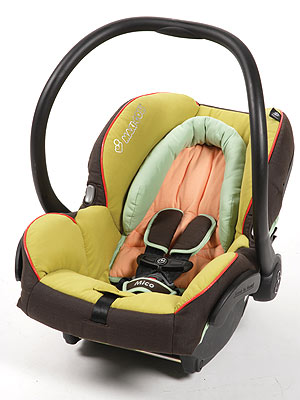 Courtesy of Maxi-Cosi
Who says your infant car seat can't be safe and cute?
If that's what you're searching for, Maxi Cosi's Mico Infant Car Seat ($169) has got you covered.
Not only does it feature a cool, ergonomic design, but it's available in five stylish colors.
Things We Like: Compact and lightweight, it's a touch narrower than other infant car seats so it will fit easily in smaller cars. It's also easy to tote around.
Designed for babies from 5 to 22 lbs, it features thick-padded side wings made of EPP foam for extra side impact protection, a plush infant headrest and an adjustable stay-in-car base.
Plus, the shoulder straps adjust to four different height to accommodate babies from 19″ to 29″. And it comes with a rain shield, bug net and comfy footmuff.
You can also install it to face rear with both Latch connectors or your vehicle's safety belts.
Things We Don't Like: Not all stroller companies make adapters for the Mico, so you'll have to check that it will work with your stroller before you buy. You can use it with Quinny, Bugaboo, phil and teds, Easy Walker, and Stokke buggies.
Moms & Babies Rating: We love the Maxi-Cosi Mico! This European import is a terrific infant car seat.
— Nancy Horn