Angela Kinsey on Isabel's Office Visits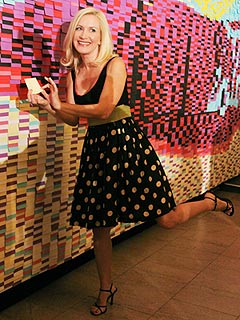 Sonia Moskowitz/Globe
We just love Angela Kinsey! The sassy Office star, who plays Angela Martin on the hit NBC series, is proud mama to daughter Isabel Ruby, 2, and funny, to boot!
Now filming season 7 of The Office — the last with costar Steve Carell — the actress is also working with Publicolor and Post-It to celebrate the beautification of New York City schools.
Kinsey recently took some time from her busy schedule to chat with PEOPLE Moms & Babies about her daughter and all the experiences they've shared this summer.
Moms & Babies: So, how is Isabel?
Angela: She's such a happy, happy person. She's a joy of light. She's chatty and curious and exploring, and I feel like life is way more interesting now because I'm seeing it filtered through her eyes. I don't know what parenting is like for other people, but she makes me stop and appreciate the smaller things in life.
Every night, she wants to go find the moon. She asks, 'Mommy, we'll go find the moon?' So we go outside, and we look for the moon. She says, 'Hello moon. Come on down, have a seat, have some water!' She's like a hostess to the moon.
In addition to finding the moon, we have to find a star, so we find a star and sing "Twinkle, Twinkle Little Star" to it. Her dad (ex-husband Warren Lieberstein) and I have been talking to her about sunsets, so on a recent Sunday night, the three of us went and found the sunset. She was really excited. All those moments are so special.
Does her love of reading translate into a love of Goodnight Moon?
She does like Goodnight Moon. She loves reading, and we do story time. My sister teaches kindergarten and first grade, and that's been such an amazing gift for me. She sends me a package once a month filled with her favorite books. This is a schoolteacher, and all she does is story time, so I feel like Isabel has an awesome library, thanks to my sister.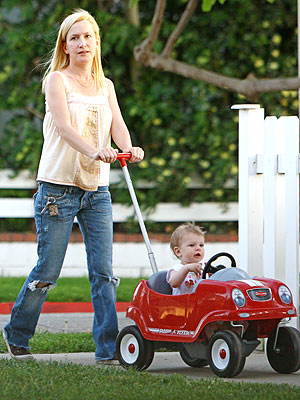 GSI Media
When you were nursing, you mentioned music was a big part of your lives. Is it still?
Isabel's dad is so great about playing music. He loves music and loves making playlists. He loves to play Elvis for her, so now she's really into Elvis.
We're always singing or dancing. She's in a music class, and loves it. They get to play the tambourine and rattles, and they sing songs and she just loves that.
Her teacher plays guitar, and because of that, she wanted a guitar. A friend of ours got her a little pink guitar for her birthday, so now she plays that guitar and sings. We got her a little drum, too.
Her favorite song is "Bingo." We have to put it on repeat. I will find myself driving alone in my car, on the way to work and I'm humming, and I'm like, 'What am I humming?' And it's "Bingo!" It's like, in my brain permanently.
Is she crafty?
She's really crafty! She loves to paint, and she loves Play-Doh. The first thing we do in the morning when she wakes up, she says 'Mommy we do Play-Doh now?' We make cakes and cookies, and the other day we made tacos! We really learned not to eat the Play-Doh, but just pretend.
Do you bring her to work?
We're really lucky. She comes to work and has lunch with us. We just went back to begin filming season 7, and since she's a little older now, it'll be interesting — I don't know if she'll be bored. So this year I'm curious to see how she'll do. But I think coming for lunch is something we're going to try to keep going. It's so nice for both of us.
I am the only lady on our show with a child. Isn't that interesting? Our crew and some of the other folks with kids have their kids come for lunch. It's a very family friendly set.
Do you think Isabel understands her mom is on TV?
I don't think so. She'll come to set, and they usually wait for me in the green room, which is right by the stage and has monitors. She'll point to the screen and say, 'There's mommy!'
The production assistant that's outside always steps on set and says, 'Angela, Isabel is here.' So our cameraman Chris will put the camera on me between the scenes, and say 'Okay Ange, you're active in the green room.' I'll say, 'Hey Isabel! Hey baby! How are you?' I'll do "Itsy-Bitsy Spider" and talk to her. And then they'll say, 'And rolling,' and I have to become Angela Martin.
It's a thing that she doesn't quite understand, and I'm okay with that. She's just a little kid.
I imagine that someday my work will be totally blasé to her. I have a friend whose dad is a brain surgeon, and I'm like, 'Your dad is a brain surgeon! Oh my gosh!' And he's like, 'Yeah, whatever.' You know? I think your parents become like, 'Eh, whatever.'
Would you support her if she decided to go into show business?
I'm just going to support her whatever her interests are. I find now that her interests are nature and music. I'm really trying to encourage those two things! I just want her to be happy and feel fulfilled in whatever her choice is, and have a sense of self-worth. I just want to nurture her, in whatever that is.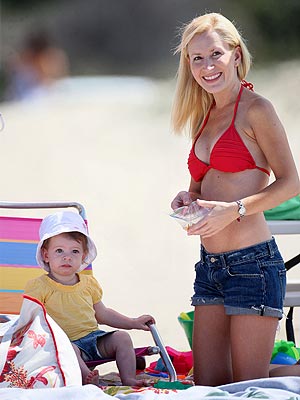 TTA Media/Splash News Online
How do you handle being a working, single mom?
I think no matter how your life is, parenting is just a thing that you always are juggling.
I think it's a tough road if you're a stay-at-home mom, a working mom, if you have a partner, if you don't. It's the best job in the world, and the toughest job in the world all at the same time.
I am so incredibly fortunate that I have a great partner in Warren; he's an excellent dad. We have a really wonderful relationship co-parenting, and I'm thankful for that. We have each other's backs, and we try to give a united front to Isabel.
I also have wonderful family and friends. I feel really fortunate. On days when I'm tired or it feels like too much, I can call my mom or one of my sisters and get a pep talk.
I have a very normal life. I go to the grocery store, I go to Target. I don't have an assistant, I don't have an entourage. I feel like I sort of forget sometimes that I am doing a show that a lot of people might see. Sometimes the fame part of it creeps up on me, and I'm like, 'Wait a second, I'm just a working mom!'
The hardest thing for me, really, is having to go back to work after having a few months off. Isabel and I are peas and carrots, I have so much fun with her when we're on our hiatus, and going back to work is … that first week back is really hard. I'm not as accessible to her, I'm not around as much. I miss being around her all day.
Why did you decide to get involved in this event?
Publicolor is a great non-profit organization. Some schools can be dingy and uncared for, and here in Manhattan, they go in and try to paint them, make them look nicer, get the kids involved and get them interested and proud of their school again.
Post-It combined with Publicolor, and that really spoke to me, because I had an amazing school growing up. I went to an international school in Indonesia (she moved there when she was two and stayed for 12 years), and our art program was huge. We had art, and music and theater. I came back to the U.S. in high school, and our public school had like, almost zero art department. I find that's probably pretty common across the U.S. as I talk to people.
I think we want our kids to grow up to be people who can think outside of the box, be creative and innovators, sort of the forward-thinkers of our future. I think a way to inspire that is through art and music. I just want to bring awareness to that. I thought this competition was a great way to highlight that.
I've told the people that I work with as charity opportunities come my way, that things I want to focus on are children and their needs. Being a mom, I think about what I want to provide for Isabel. And I want that to be accessible to other people as much as I want it to be for her.
— Kate Hogan