Cook for a Cause with Celebrity-Favorite Recipes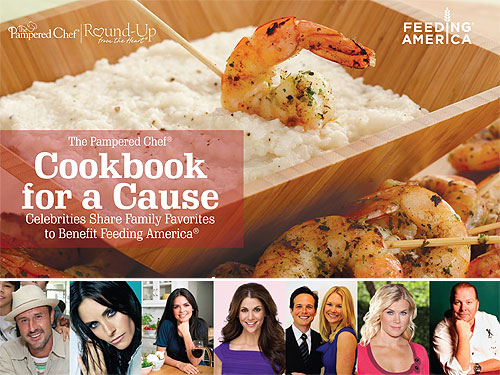 Courtesy of The Pampered Chef
Talk about cooking with love! Now thanks to The Pampered Chef, you can help feed a family in need without leaving your kitchen.
Just download their new Cookbook for a Cause, which features star-worthy recipes from some of Hollywood's most philanthropic moms and dads. Not only is it free, but each download will result in the donation of one meal (up to 140,000) to Feeding America.
You can start your day off with Samantha Harris' yummy creme brulee french toast or try Scott Wolf's top-secret burger recipe. Other celeb contributors include Mario Batali, David Arquette and Alison Sweeney.
You can also purchase the company's limited-edition Round-Up from the Heart® trivet ($13). For every one sold, they'll contribute $2 to Feeding America.
Hungry for more details? Click below for a recipe from Courteney Cox-Arquette.
Alabama Shrimp Skewers with Parmesan Grits (pictured above)
INGREDIENTS
For Shrimp Skewers:
3 dozen U-15 Alabama gulf shrimp or any fresh shrimp, 1 medium shallot minced, 1 cup extra-virgin olive oil, zest of one lemon, zest of one lime, 1/2 teaspoon kosher salt, black pepper as desired, a handful of chopped flat leaf parsley
For Creamy Parmesan Grits:
4 cups water, 1/2 teaspoon kosher salt, 1 cup white stone ground grits, 2 tablespoons unsalted butter, 1/4 cup – 1/2 cup grated parmesan (my favorite is Parmigiano-Reggiano), Fresh ground salt and pepper as desired
INSTRUCTIONS
For Shrimp Skewers
Peel and de-vein shrimp, leaving tails on or off, and place shrimp in sealed bag. Place other ingredients in small food processor and pulse/mix until it just comes together. Remove marinade and mix well with shrimp. Leave to marinate in fridge for 1 hour. Turn on grill to med-high and when ready grill shrimp on both sides for a few minutes until center is opaque. Grab some bamboo skewers, put some shrimp on the end and have fun dipping them into the parmesan grits!
For Creamy Parmesan Grits
In a medium saucepan, bring water to boil. Add the salt, then whisk in the grits in a slow, steady stream, whisking constantly to prevent clumps and thoroughly mix in the grits. Bring to a boil while whisking, then reduce heat to low and simmer for 45 minutes to 1 hour. Stir occasionally with a wooden spoon until grits are thickened and tender. When finished cooking, add the butter and parmesan, stir until well combined, then add salt and pepper as desired. Remember to add a little salt and pepper — you can always add more, but you cannot take away