Mini & Maximus: Cool, Kid-Designed T-Shirts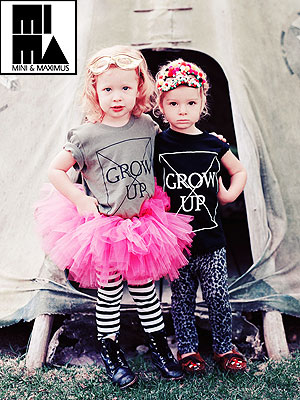 Courtesy of Mini & Maximus
Recognizing what your fridge already knows — kid art rocks! — Mini & Maximus is a brand new T-shirt line that features some of the coolest scribble-scrabble around.
Our favorite: Sasha's Scribbles ($38), which features a hodgepodge of colorful ghost-like characters drawn by a 3-year-old.
There's plenty of big kid (read: adult) art on display as well.
We're especially loving the funky upside-down black cat Meow tee ($38), as well as, the vintage appeal of the Feather Crown tee ($38).
Sizes generally range from 2 to 8, and each shirt is available in either 100 percent organic cotton or a recycled polyester-organic-rayon blend.
Love a certain print? Be sure to check out the company's coordinating poster collection ($40-$45). You can even submit your child's artwork to MiniandMaximus.com for inclusion in an upcoming line.