LeBron, Shakira … and Dora? Celebs Design Dora the Explorer Backpacks for Charity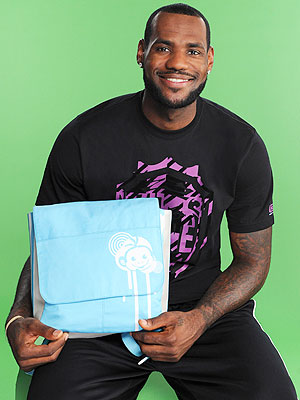 Larry Busacca/Getty
Dora the Explorer is turning 10!
And in honor of her big day, Nickelodeon is unveiling 12 celebrity-designed backpacks in the windows of Macy's Herald Square in New York City today.
Celebrities including LeBron James, Shakira, Jessica Alba, Heidi Klum, Salma Hayek Pinault and Matthew McConaughey were tapped to create one-of-a-kind backpacks that will be sold to support the network's Beyond the Backpack program, which helps promote kindergarten readiness for preschoolers.
"We're grateful to everyone who contributed their time and talent in designing these terrific backpacks as a tribute to Dora," said Cyma Zarghami, president of Nickelodeon.
"We are incredibly proud of how much of a beloved role model she has become to so many families around the world."
Hand-made in the United States, each backpack features Dora-inspired graphics ranging from punk-rock and preppy to goth-chic and glam. They are also personally signed by each celebrity designer.
Guided by his life on the court, James (above) created a simple yet sporty bag with the bumpy texture of a basketball.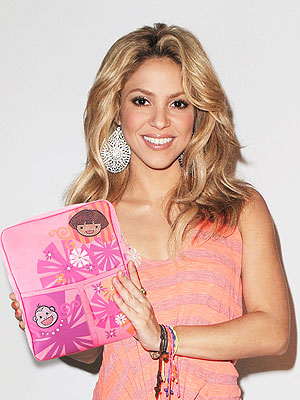 Jeff Daly/PictureGroup
Shakira (left) opted for a more girlie style complete with pink, purple and orange flowers and Swarovski crystals.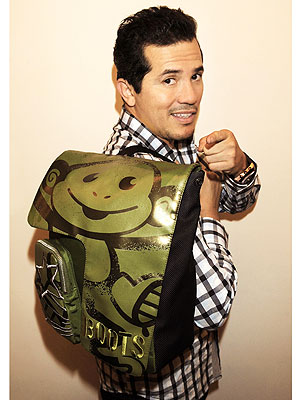 Scott Gries/Picture Group
John Leguizamo (left) — who voices the Flying Monkeys in this Sunday's premiere of Dora's Big Birthday Adventure— paid tribute to Boots with an urban-style messenger bag made of rubber.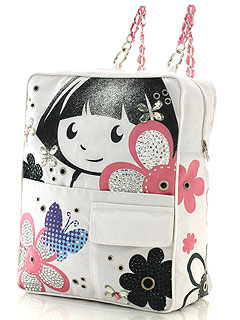 Jeff Daly/PictureGroup/Nickelodeon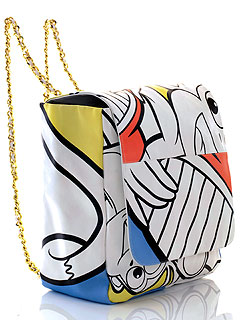 Jeff Daly/PictureGroup/Nickelodeon
Talk about glam! Project Runway host — and mom of four! — Klum designed a bejeweled pack (left) covered with butterflies and flowers.
New Orleans Saints quarterback Drew Brees — who's expecting his second son in October — went for a Lichtenstein-esque effect (right) complete with clean lines and primary colors.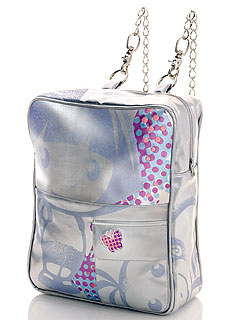 Jeff Daly/PictureGroup/Nickelodeon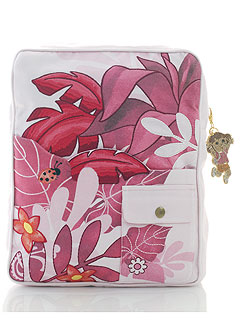 Jeff Daly/PictureGroup/Nickelodeon
Dora sparkles in a soft metallic leather design (left) by country singer and mom Faith Hill, while the lovable character literally hangs out — check out that super cute charm! — in the lush rainforest in actress Eva Longoria Parker's creation (right).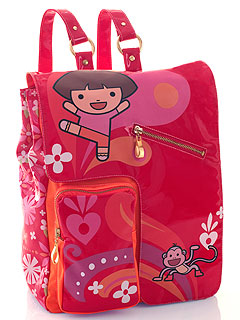 Jeff Daly/PictureGroup/Nickelodeon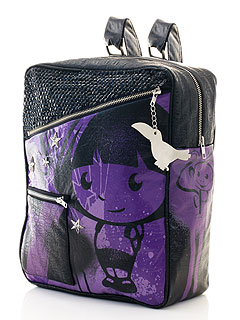 Jeff Daly/PictureGroup/Nickelodeon
Hayek Pinault's shiny red patent bag (left) features two front pockets — and a playful Dora and Boots print.
Dora earns her Rock 'n' Roll cred with shiny zippers, sparkly stars, studs and textured leather in this hand-sprayed version (right) by drummer (and dad!) Slash.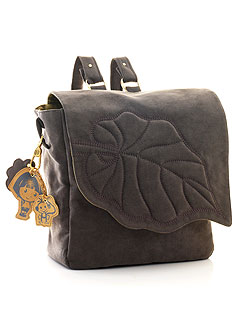 Jeff Daly/PictureGroup/Nickelodeon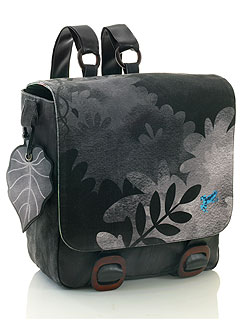 Jeff Daly/PictureGroup/Nickelodeon
Made of soft brown Ultrasuede®, Alba's simple, elegant leaf-embossed design (left) opens up to reveal a beautiful gold interior. Singer Sheryl Crow's soft black and grey bag (right) features a tiny blue frog and a hidden colorful surprise inside.
Each adorable school bag will be available for auction on CharityBuzz.com — and on display at Macy's — through Sept. 2. And all proceeds will be donated to the Children's Defense Fund, which will be funding school readiness programs.
"The Children's Defense Fund has years of research that points to the importance of developing school-ready skills early so that children can succeed in the classroom," noted founder and president Marion Wright Edelman. "I'm proud to continue this partnership with Nickelodeon to further the messages of Beyond the Backpack and the CDF."
The Beyond the Backpack program is designed to call attention to the emotional, physical, experiential and actual competencies that preschoolers need for those first, crucial steps into school. For more information on the program, go to Dora.BeyondtheBackpack.com. It features everything from downloadable pre-school learning activities to a list of pro-education community events.