Kerri Walsh's Blog: Why We Chose 'Irish Twins'
Kerri Walsh has taken home two Olympic gold medals in beach volleyball with partner Misty May-Treanor.
But she has two even bigger accomplishments to her name: Sons Joseph Michael, 14 months, and Sundance Thomas, 3 months, with fellow volleyball star Casey Jennings.
When Walsh, 31, delivered her second son this past May, just three days before Joey's first birthday, many thought, "Two boys in a year? What?!" but as she explains in this week's blog, that's just how she and Casey wanted it.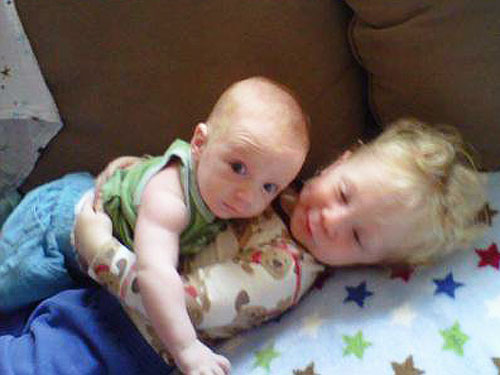 Sundance and Joseph – Courtesy Kerri Walsh
A lot of people ask me why we decided to have our kids so close together and it always brings a smile to my face. Joey and Sundance are three days shy of a year apart — "Irish twins" — and that's EXACTLY how we wanted it!
Some people assume it was an "accident." Some think we've gypped Joey out of being the one and only far too soon. Some believe we're simply crazy while others think it's a beautiful thing.
There were several reasons behind our decision. Here are a few of them:
As a professional athlete the lifespan of my career is, unfortunately, pretty limited. I felt that having my children back-to-back would enable me to make the most of my time in the sand. I was fortunate enough to win gold in 2008 and a little shy of two years later, I have both my babies and am now getting back to the sport I love so much and the job which allows me to support my family.
Our volleyball careers require us to travel a lot and we never want our kids to feel alone or to be without someone to relate to.
Lastly and most importantly: Both Casey and I are very close in age to our nearest sibling and we each absolutely LOVED everything about that closeness.
For me, my brother Marte and I are 11 months apart, as close as can be and I wouldn't trade this for the whole wide world. He was my best friend throughout every stage in life — still is! — and I took a silly kind of pride in telling people that we were Irish twins. I wanted that for my kids with Casey.
I honestly feel that my brother and I being so close in age is one of the very best blessings in all my life. He was always right there for me as a friend, protector, mentor, playmate and sparring partner. My childhood was beyond special and adventurous and hilarious because I shared it all with my best friend — my big brother. How could I not want to pass that along to my children?
It was my dream to have our children so close to each other and I feel so grateful and humbled that the big guy upstairs blessed us with the realization of that dream.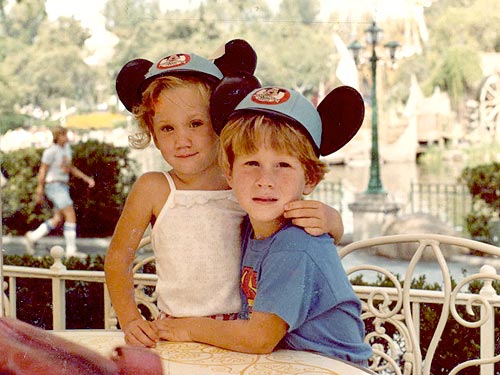 Kerri and Marte as kids – Courtesy Kerri Walsh
— Kerri Walsh