Leah Remini: Sofia's a Budding Stylist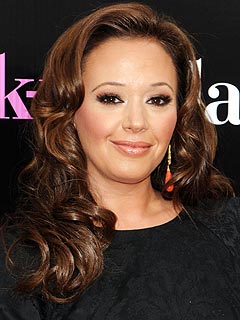 Sara De Boer/Startraks
Actress Leah Remini doesn't need to pay for a stylist: her 6-year-old daughter Sofia Bella has demonstrated a flair for picking out mom's outfits.
"She's fabulous," Remini tells PEOPLE Moms & Babies of Sofia's eye for coordinating her fashion choices.
"She's laid out my clothes like my stylist does, puts it out on the floor with the shoes, the purse, the earrings and everything!"
The actress, who'll be co-hosting CBS's new fall chat show The Talk, said she loves taking a break from her bustling, family-filled household to bond with her daughter by flipping through fashion magazines together.
"That's my favorite moment because it's really just between her and I," Remini, 40, says.
"Then she asks for things like fishnets: 'Mom, I need fishnets.' And I say, 'No.'"

But for all her potential as a professional fashionista, Sofia may be better suited for a life in the spotlight like mom.
"You can tell that she has the bug for the attention," said Remini. "For her sixth birthday she said, 'I need a red carpet.' Mindy Weiss is a party planner here in L.A. – she's did my wedding. Mindy came over and said, 'Sofia, what do you want to do?' Sofia goes, 'I want a bouncer. I want those velvet ropes and a pink carpet.'"
"So Mindy comes in the morning and goes, 'Your bouncer is here.' Sofia runs downstairs and she sees [an inflatable] jumper. She's like, 'Where's the bouncer?' Mindy says, 'It's right here.' She goes, 'I meant a bouncer: blonde hair, fair build,'" Remini laughs.
"[I ended up hiring] a model to act as her bouncer — then she asked for paparazzi! I made the DJs act like paparazzi along the red carpet."
— Scott Huver