Gavin Rossdale Reveals the 'Hardest Thing' About Touring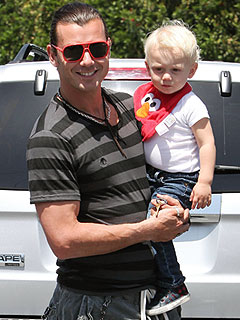 Ramey
Striking a balance between fatherhood and fame is tough — but not impossible, according to Gavin Rossdale.
"It's always painful when I leave on tour. It's the hardest thing," the musician, 44, tells Spin.
While packing up and hitting the road "never used to be difficult," Rossdale — who is preparing for a Bush reunion — admits it is no longer an easy feat since welcoming sons Kingston, 4, and Zuma, 23 months, with wife Gwen Stefani.
"Now it's not easy, but it's reality," he says, adding he is proud to set a good example for his boys. "I say, 'Look at this house — this is how you get it.'"

Noting that the notion of juggling a personal life with a career is nothing new, Rossdale is the first to admit he always manages to find a solution.
"I'm not going to be one of those dads who are always away and doesn't have any contact with home. I'm the opposite. I like that nomadic lifestyle and bringing the kids along is cool — they love it," he explains.
"It's funny now because in the age that we live in there's such a focus on celebrity, with Gwen and the whole paparazzi thing. It's weird when you think of Bob Marley, who had like 14 kids, I don't know if he was ever asked that question."
— Anya Leon