Heidi Klum: Kids and I 'Take Advantage' of Tourist Attractions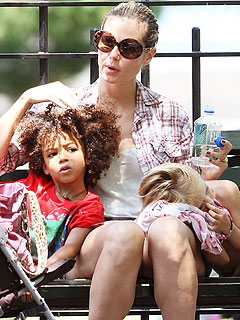 Flynet
She's traveled the world as a model, and now Heidi Klum is once again a globetrotter — this time as a mom, with Leni, 6, Henry, 4½, Johan, 3½, and Lou, 9 months, in tow.
"Usually in August we go away for two or three weeks together," the Project Runway host, 37, tells USA Today.
"We usually go visit Grandma and Grandpa in Germany. And usually my husband [singer Seal] and I run off together … We need time alone, too!"

The family recently spent time in the Big Apple while Klum did press for the show's new season, but she insists the gang squeezed in plenty of tourist time!
"We take advantage of everything the city has to offer," she says. "Tomorrow we go to Blue Man Group, we went to the Statue of Liberty and rode the tour bus around the city, we went to the ballet. We do a full on sightseeing program."
So how does such a large family prepare for one of their big adventures? "I make a calendar for them and they cross off days every day," Klum explains. "Then we get them special toys and they know these toys, they are especially for the holiday."
— Anya Leon