Celebs Love Taga's All-In-One Bike and Stroller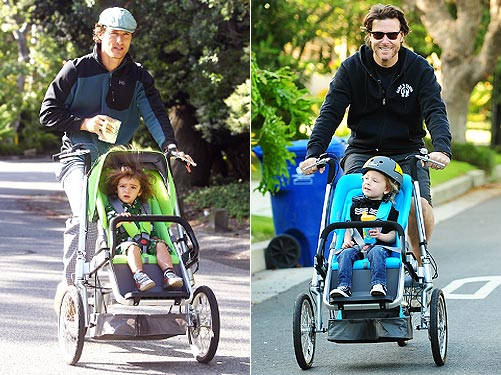 Courtesy of Taga
Whether they're tooling around the neighborhood or taking a spin in the park, celebrity parents including Matthew McConaughey, Kelly Rutherford and Dean McDermott love to put their tots front and center with the new Taga ($1,495).
Not only is it a great ride, but it converts from a bike to a stroller in a breeze. There are no additional tools or parts required — all you need is baby, some helmets and your determination!
The price tag may be steep, but it's in line with other high-end bike carriers that do double duty. But unlike the others, the Taga stroller actually looks — and performs — like a stroller, comfortably seating children ranging in age from 6 months to 6-years.
There's even an add-on seat for a younger sibling, as well as a carseat adapter for infants. Other baby-safe features include a five-point harness, head cushion and front safety bar, while the sturdy alloy frame, Shimano gear system, front, rear and parking brakes and fully sealed chain guards help keep you moving.
Ready to hit the road? Go to Tagabikes.com to shop.