Gisele Bündchen: Secrets of a Pregnant Supermodel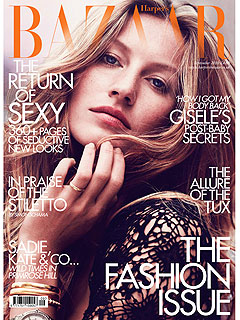 Courtesy Harper's Bazaar UK
No woman likes to see a supermodel reclaim her world-famous figure just six weeks after giving birth, modeling the latest looks with nary a tummy bulge. But lucky for all the mere mortals out there, Gisele Bündchen is sharing her secrets.
Bündchen and her husband Tom Brady welcomed their son Benjamin Rein just seven months ago, and the model, 30, says she owes her body to three things: kung fu, meditation and breastfeeding.
She says she practiced kung fu two weeks before giving birth, yoga three times a week throughout her pregnancy, and meditated every day.
"It prepared me mentally and physically," Bündchen tells the UK version of Harper's Bazaar in their September issue, on newsstands Aug. 5.
"It's called 'labour,' not 'holiday' for a reason, and I knew that. You want to go into the most intense physical experience of your life unprepared? That doesn't make any sense to me. I wasn't expecting someone else to get the baby out of me."

Nor did she expect a hospital room to give birth.
"Not for one second did it cross my mind that I was not going to have my baby at home," she tells the magazine. "I am not the first person to give birth naturally. Billions of other women have come before me and have done this — so why can't I do it?"
She's also not the first woman to advocate breastfeeding — though she may be the founding pioneer for nursing-by-law.
"I think there should be a worldwide law . . . that mothers should breastfeed their babies for six months," says Bündchen. "Some people here think they don't have to breastfeed and I think, 'Are you going to give chemical food to your child when they are so little?'"
Additionally, there are the physical bonuses. "I think breastfeeding really helped me [keep my figure]," she says.
If that doesn't help get her bill signed into law, nothing will!
— Rennie Dyball