Alicia Minshew Keeping the Focus on Willow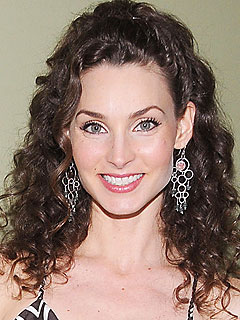 Michael Simon/Startraks
She's played Kendall Hart on All My Children since 2002, but Alicia Minshew made a clean break from the character  during her recent maternity leave with daughter Willow Lenora, 9 months.
"I hate to admit this because it's a terrible thing, but I didn't [watch the show]," she reveals in a new interview with Smashing Interviews.
Not only was the actress busy acclimating to the chaotic sleep schedule of life with a newborn, she wanted to soak up every waking moment with Willow, her first child with husband Richie Herschenfeld.
"I decided I kind of just wanted to distance myself," Minshew, 36, explains, "and just focus on my child."

Since returning to work, Minshew's transition has not been easy.
"As much as I love my job and I love everybody I work with … It's still hard," she concedes. Although Willow spends the day in the "good hands" of her dad, Minshew misses her one-on-one time with baby girl nonetheless.
"I spent eight months with just her and me and really enjoyed being the mommy," she notes. "I go through withdrawal symptoms."
There's also a constant reminder of what she's left behind! "I am still breastfeeding her, so physically my body goes, 'Ow, okay, gotta pump,'" she says. "But, it's good. I'm finding that balance."
Adjusting to motherhood was much easier. "I didn't have any problems," Minshew says. "That transition went great."
The first few weeks were not without a few anxious moments, however, as any first-time parent knows.
"There are scary moments where you don't know if she's still breathing, what's wrong with her, confused about some of her weird sounds," Minshew points out. "So the first month was scary just because I'd never done it before. Then eventually we found our groove and we got to know the baby more. Now I think we've got the hang of it."