Jerry O'Connell: Twins Can Be Double Trouble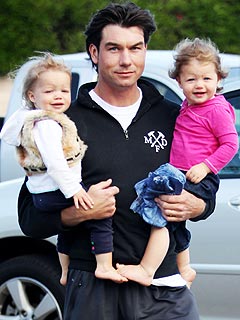 Nathanael Jones/Sam Sharma/Pacific Coast News
As the parents of 19-month-old twin girls, Jerry O'Connell and Rebecca Romjin have double trouble: the "terrible twos" times two.
"I think my children are actually worse than the terrible twos," a beleaguered O'Connell, 36, joked to PEOPLE at Wednesday's TCA presentation in Beverly Hills, Calif.
"They're just crazy. Listen, everyone says to us, 'It gets better. It gets better.' That has not been my experience. It seems to be worse and worse. My wife and I were talking about splitting up but neither of us want to take the children – that's our joke."

Particularly, it's Dolly and Charlie's competitive streak that's driving their dad to distraction.
"If I buy things, because they're twins, I always buy two of them: if it's one doll I buy two of them; if I make one bottle of apple juice I make two. I don't know what it is, if it's instinct or what, but if I give one bottle to one, the other one immediately wants that bottle," notes O'Connell.
"I show them, 'Look, there's absolutely no difference between either of these! You can pick either one and it's exactly the same. There's no reason to fight. We have two of everything in this house!' They don't get it because they want to fight over something."
Nevertheless, O'Connell, who stars in the new fall legal drama The Defenders, adores being a father to two little girls, to the point of discovering his inner beautician.
"I love doing their hair. I wanted to give them a haircut but my wife was like, 'No. You have to let their hair grow out.' I was a little against that at first because their hair is in their face and you have to take care of it, but I'm really into combing it and putting their hair into pigtails."
After a recent stint in law school, he's now mulling over another field of study. "Maybe I'll go to beauty school," O'Connell laughs.
— Scott Huver