Helena Christensen 'Not a Strict Parent'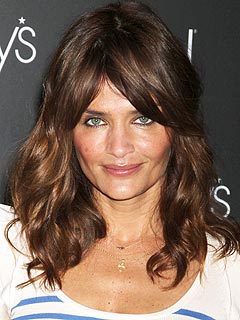 Dara Kushner/INF
There aren't many rules in the home Helena Christensen shares with son Mingus, 10, and fortunately for the supermodel, there has never needed to be.
"I'm not a strict parent," she notes in a new interview with Babble. "Mingus hasn't challenged me in that way — he hasn't demanded something that I would find totally ridiculous."
Allowing her son to partake in television and video games has worked to Christensen's advantage.
"I haven't deprived him," she explains, "because kids usually overdo [those things] for a bit but then they get over it because it's not enough stimulation anyway."

In fact — when given the choice — Mingus will more often than not head for the great outdoors. "He wants to be out in nature all the time" according to Christensen, 41, who reveals that her son recently even found a snake in New York City. "He said, 'We have to bring it home,'" Christensen recalls. "So I had to empty a water bottle, and in it went."
"Then I took it to the pet store, and they identified it. It's not a cobra, so we took it home and it's now living in a big cage, and I have to buy grasshoppers every week," she continues.
Her laid-back approach to parenting wasn't always in place, and Christensen admits she "worried a lot" while pregnant with Mingus. "The responsibility is so heavy if you think about it," she adds. "If you think too much about it, it drives you crazy."
Instead, Christensen advises new moms to "just let it happen."
"All [kids] really want is love and routine and a good night's sleep and delicious food," she says. "As long as [kids] feel they're being loved, I think they can deal with anything."