Bridget Moynahan Says Son Is a Bookworm Already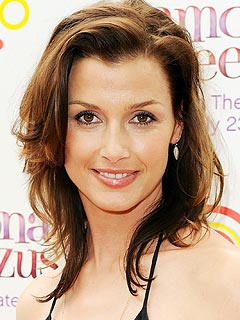 Stephen Lovekin/Getty
Playing Mrs. Quimby in Ramona and Beezus was a thrill for Bridget Moynahan. Not only was the actress a fan of the Ramona Quimby series as a child, her 2½-year-old son John Edward Thomas is a fan of books in general!
"I have pictures of him looking at books and flash cards when he's just sitting up," Moynahan, 39, recalls. "I have one picture where I was reading a book on Buddha and Buddhism and his face is in there, looking at the words."
Just the night before her interview with USA Today, conducted in a Barnes & Noble, Moynahan says that Jack emptied his bookshelf in anticipation of story time with mom. "We went through four books," she notes.
"He's known his numbers and alphabet for some time now, and it's clearly from reading, unless he's going to accounting school on the side," she adds.

As for her split with Jack's dad — New England Patriot's quarterback Tom Brady — Moynahan says that Jack is no worse the wear. "Our structure has always been two homes, and that's all my son has ever known," she points out.
"If you go from a structure where you have the support and that partner and that construction of a family and that's broken apart, I think that's probably a lot harder than always being a single mom and having the father being a support in another area," she muses.