Liev Schreiber Enjoys Tub Time with Sons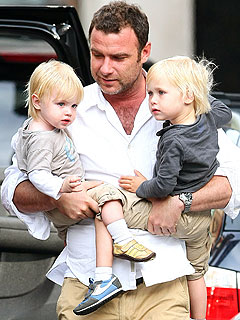 Saleem Elatab-Ahmad Elatab/Splash News Online
One of Liev Schreiber's favorite places to bond with his sons Sasha and Kai? In the tub!
"Bath time's pretty great — it's fun to take a bath with your kids," the actor, 42, told PEOPLE Moms & Babies at the Darker Side of Green Debate Series, held Tuesday at the Bowery Hotel in New York City.
"I'd like to get to Sasha to stop turning the cold water on [though]!"
That's not all the mischevous 3-year-old likes to get his hands on — Schreiber and fiancée Naomi Watts are trying to get Sasha and 19-month-old Kai "not to trash the toilet paper roll."
"They use a lot of toilet paper. Unfortunately they don't really use it to go to the bathroom so we have to try to limit that," the Salt star laughs.
"It's fun to pull a roll of toilet paper around the house, but if you do, try to roll it back up!"
— Mary S. Park