Kerri Walsh's Blog: Meet Me and My Boys!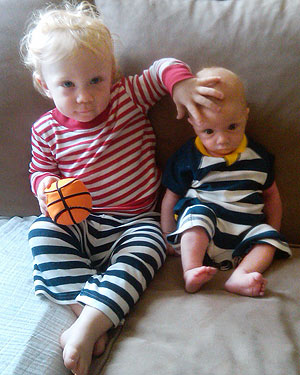 Courtesy Kerri Walsh
PEOPLE Moms & Babies is happy to introduce our newest celebrity blogger — Kerri Walsh!
The accomplished athlete, 31, has taken home not one, but two Olympic gold medals in beach volleyball alongside her partner, Misty May-Treanor.
With Athens 2004 and Beijing 2008 behind her, Kerri is now focusing on raising her sons with fellow volleyball star Casey Jennings — Joseph Michael, 14 months, and Sundance Thomas, 10 weeks — as well as preparing for the London 2012 Olympic games.
Click below to read her first blog!

Hey people! My name is Kerri Walsh Jennings. Many of you probably know me as an Olympic athlete, and for those of you who do, thanks for watching and supporting beach volleyball. 🙂
My goal in writing this blog for PEOPLE Moms & Babies is for you to also get to know me as a mom. I have two sons — Joseph, 14 months, and Sundance, 10 weeks. It's a relatively new role for me, but it's a role I cherish with all my heart.
Just to get you up to date on my life, below is a speedy recap of what's happened to me since you got to know me at the 2008 Beijing Olympic Games.
August 2008: My partner Misty May-Treanor and I win our second gold medal!
A few days later: I'm pregnant!! (Official word comes later.)
August-May: A wonderful pregnancy. Fit, healthy, sweet and exciting.
May 22, 2009: My husband Casey Jennings and I welcome our son, Joseph Michael Jennings, into the world.
August 10, 2009: First tournament back in action on the AVP tour. So fun!! Beyond challenging! New body. New brain.
A little later that month: I'm pregnant!!
August-May: Another great, healthy, a little more tiresome but just as sweet, pregnancy.
May 19, 2010: Casey, Joey and I welcome Sundance Thomas Jennings to our family. (I'll fill you in on the name choice later!) 🙂
June 15, 2010: My "comeback." The road to London and the 2012 Olympic Games officially begins with my first day back on the beach. Scary! Fun! Exciting! Humbling!
June 16, 2010: I can hardly walk, I'm so sore from day one and am wondering how I'll survive my comeback?!
June 24, 2010: Our first family adventure. All four of us, along with my little sister KC — strength in numbers! — fly out to Belmar, New Jersey to support Daddy on the Nivea AVP tour. Pure craziness! So exhausting! But our dream has become reality!!
So there you go: You're all up to speed. In the coming weeks, I'll be sharing my/our life with you, including the highs, the lows and the adventure of it all. You are cordially invited to join us for the ride!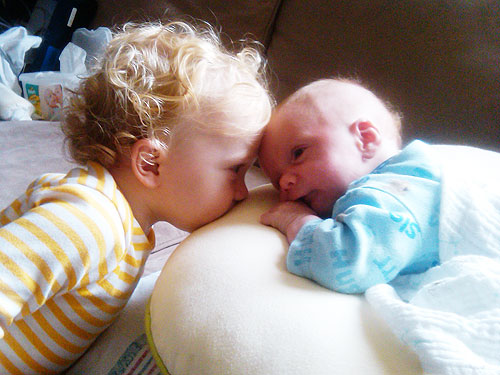 Courtesy Kerri Walsh
All my best,
— Kerri Walsh
A warm welcome to Kerri! What questions do you have for her? What topics would you like her to blog about in the future?