Paper Culture: Adorable, Easy-to-Design Baby Stationery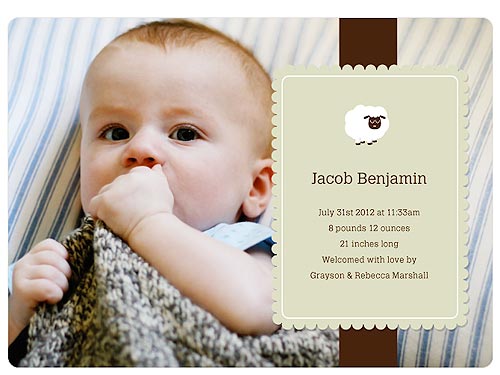 Courtesy of Paper Culture
Your baby's just arrived and it's time to get the word out. But how? We vote for spreading the news with Paper Culture personalized stationery. Not only are their baby announcements unique and modern, but the design options are endless.
Our favorites: The fun Ladybug Spots and the chic Your Little Lamb ($1.49 – $2.29 per card, above).
But that's not all you'll find. From pink and blue storks to button-cute bears, the e-boutique also stocks an impressive selection of baby shower and birthday invitations. The real treat: They'll address, stamp and mail out them for just the price of the postage. Talk about a time saver!
Even better? All cards are made from 100 percent post consumer recycled paper, meaning that no new trees are cut down to produce their stationery. They also have a really cool program — Cards to Trees — where they plant a tree in a US National Forest every time an order is placed.
To celebrate the company's new line of baby stationery, they're offering 20% off storewide. Just enter code: NEWCARDS at checkout until August 3.