Josh Turner and Wife Expecting Baby No. 3!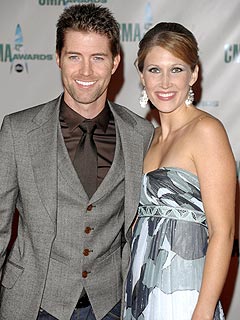 Peter Kramer/AP
Chalk one up to father's intuition: After going through two pregnancies with wife Jennifer, Josh Turner knows a little something about expectant mothers, so when he noticed her acting "a little different" he encouraged her to take a pregnancy test.
"She did and it was negative, but I refused to believe it," he tells PEOPLE exclusively.
"So when she took another and told me she's pregnant, all I could say was, 'I told you!' and she was floored." Baby number three for the couple will arrive early next year.

"I come from big families – my momma was the oldest of three and my daddy was one of six – and I've always loved children," says Turner, 32.
"They bring a lot of joy to the world and they make us adults look at things in a better way. So it's a natural thing for me and Jennifer."
Turner says they have no plans to give up their nomadic touring life after the baby's born and sons Hampton Otis, 3½, and Colby Lynch, 13 months, are already used to life on the road (Jennifer plays keyboard and sings back-up in his band). But he adds, "we have talked about getting a bigger bus."
"We get to see the whole world together and the boys are learning so much more than they would if they were just hanging around the house all day," he says.
–– Eileen Finan