Liev Schreiber: Actors Make Amazing Parents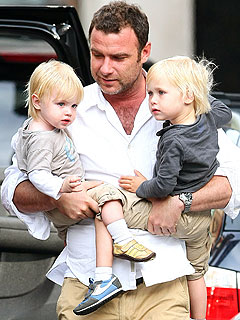 Saleem Elatab-AhmadElatab/Splash News Online
Actors Liev Schreiber and Naomi Watts have learned that even the best laid plans can go awry.
When the couple realized that their youngest son Samuel Kai, 19 months, was too little to go on a planned vacation with friends, Watts was the first to suggest Schreiber go on ahead while she stayed behind with the boys, including older son Sasha, who turns 3 on Sunday.
"We were afraid that Kai was too young, so she was just really sweet and said, 'Go dive. Go do this with your friends,'" the Salt actor, 42, reveals in an interview with New York.
However, it wasn't long before the separation from his sons got the best of Schreiber. "Nai sent [a picture of Sasha in an astronaut helmet] to me when I was on the boat because I just missed him so much," he recalls.

Fortunately the family of four will soon be spending time together as Watts films her latest movie The Impossible in Spain and Thailand. Before they head overseas, the Watts-Schreibers are soaking up their time in New York City — and, according to the proud papa, looking adorable while doing so!
"We stick the kids in little seats on the bikes with helmets," Schreiber, who has tattooed the names of his sons on his arms, says. "It's very cute. We're a very cute family."
And despite their hectic schedules and long hours away from home, Schreiber jokes that when it comes to good parents, actors are at the top of the list. "The two of us can play longer than either of them," he explains.
But who is better when it comes to role playing with the boys? Watts wins that honor, he admits.
"Naomi is probably the best little kid that I've ever seen. She understands that to play with kids you have to get into the game," he muses.
"You've got to fly a dinosaur around the house for a while and give the dinosaur a voice so Sasha can talk to you with his dinosaur and the two dinosaurs get to sit down, have lunch, maybe meet a dragon, and if you're really lucky, maybe a lady bug will come along."
— Anya Leon