Magnificent Baby: Adorable Snap-Free Baby Clothing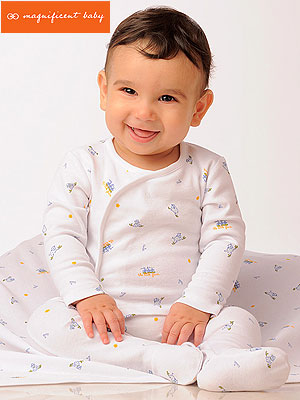 Courtesy of Magnificent Baby
Even the most dexterous hands have a hard time operating the snaps on baby clothing.
So imagine what happens during a midnight diaper change with just a few winks of sleep.
Can someone say messy diaper change?
Just in time, Magnificent Baby has come up with a terrific solution.
Instead of annoying snaps, each style comes with hidden magnetic closures.
But that's not all we love about this new line.
Everything is made of 100 percent pima cotton and features cute farm-friendly prints (sheep, puppies, cows, flowers, ladybugs).
Our favorites: The Little Farm Burrito Onesie ($28), which also comes in pink for girls, and the Little Farm Bib ($12).
Shop the full collection at MagnificentBaby.com.
— Nancy Horn