Angelina Jolie: My Kids Adapt to Any Environment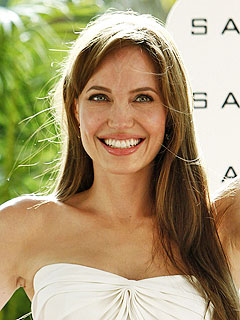 Gerardo Garcia/Reuters/Landov
Whether enjoying their luxurious Los Angeles home or traveling to third world countries with their parents, Angelina Jolie and Brad Pitt's children — Maddox, 8½, Pax, 6½, Zahara, 5½, Shiloh, 4, and twins Knox and Vivienne, 2 — have learned to love it all.
"They like this house [in Los Angeles] because it has this pool. But they also love Cambodia because it's got the fun places to throw rocks and cut coconuts and ride on elephants," Jolie, 35, tells PARADE.
"They love Africa because the kids are really fun to play with and the nature is beautiful."

Noting that she and Pitt "try not to spoil our children," Jolie insists the family's jet-setting ways have taught their brood to treasure what they do have — and sympathize with those who don't.
"They spend time in Cambodia in a teeny hut and hang out with local children. They help me visit distressed areas. They have friends with no money. They also appreciate nice things," the Salt actress reveals.
"We're hoping that, organically, it will be in them to feel for people who do not have as much. They'll be inspired to give and help people out because they'll have close friends who don't have as much. They won't whine about things they want. And they won't want more."
And although strong friendships have been formed as a result of their travels, the proud mama raves the sibling bond — and general unity as a family — is what keeps them close.
"We're a very close, very connected, very big family. The children talk to each other, and they look out for each other, and they have each other," she says. "Yes, they have friends, but they also are very, very closely connected to each other."
Still undecided on whether they will expand their family further, Jolie and Pitt realize their decision to adopt internationally has been brought under fire — but she insists their multicultural brood is what suits them best.
"Everybody likes to criticize people. It's an uneducated moral snobbery. It shouldn't matter where children are born," she explains.
"When I first started working with refugees, people would say, 'Why aren't you helping these people and not other people?' I simply looked to help. I make the choices I make because they're the choices I feel are right. Becoming a mother was the most wonderful thing."
— Anya Leon