Ali Landry's Daughter Estela Turns Three!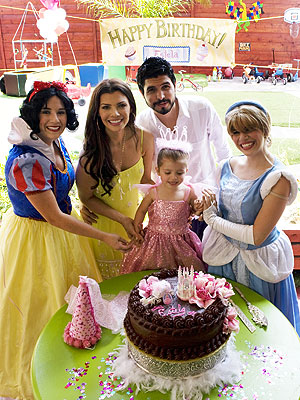 Courtesy Bryan Randall
Happy birthday Estela Ines!
Ali Landry's little girl turned three earlier this month with a princess party hosted by the actress and husband Alejandro Monteverde at their daughter's preschool (and attended by Snow White and Cinderella!).
Party favors included Mabel's Labels' Label Out Loud while mom and daughter were each gifted POSH Mommy jewelry engraved with Estela's name and birthstone.
Click below for our chat with Ali about the party!

What can you tell us about the theme of Estela's birthday party?
It was a princess party. Estela is into anything and everything princess right now! She wakes up in the morning and immediately puts on her "princess dress" and sparkly shoes. I tried telling her that she doesn't have to wear a princess dress to be a princess and that she is a princess in her heart, but she's having none of that right now! I finally decided to give in and just go with it. The result? Princess party.
We had it at her preschool. This year I decided to do everything myself and to keep it as simple as possible. She had a really wonderful party but it definitely wasn't as over the top as it was last year. I decorated with big bunches of various pink balloons for impact, I bought pink tablecloths and found the most amazing piñata decorated with princesses and lots of ribbons. We had a jumpy castle and borrowed these beautiful pink carousel horses from a friend. We invited Snow White and Cinderella, but I told her that they would only come if she's a really nice and kind little girl.
What was Estela's favorite part of the party?
Her favorite thing was the party hats. She insisted that all of her friends wear party hats! When I told my creative Mom this, she got to work on a very special princess party hat and dress for Estela. When I saw what she created I was blown away — but not surprised because my mother is one of the most talented people I know! She's the reason I started [my clothing line] Belle Parish.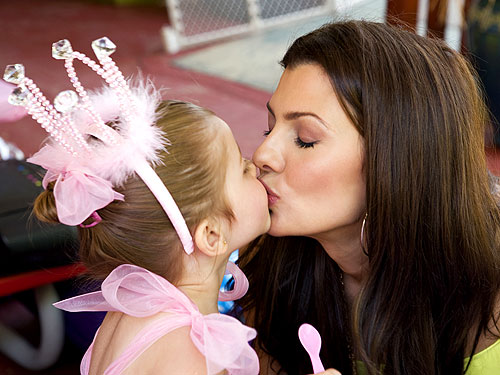 Courtesy Bryan Randall
What is your family up to this summer?
Right now Estela is really enjoying having [Alejandro's parents] in from Mexico. They are staying with us for three months and only speak Spanish, so with that said, she is having to practice her Spanish every day! She loves to sing and for me to read books to her.
Estela is a very blessed little girl and we want her to know that not all children are as fortunate as she is. She's at an age that she can understand that, so as part of her birthday this year we are taking her to an orphanage in Mexico to bring gifts to all of the little girls there. We are trying to instill in her that one of the biggest and most wonderful gifts of all is giving back. We are so excited to do this as family and since all of our birthdays are in July, we thought that this was the perfect time to do it.
And what's the latest with your own personal projects?
Belle Parish is doing wonderfully. Because of the success of our first collection, we've rebranded it and will be selling it year-round. We've added six new dresses to the collection that we will premiere at Fashion Week in September, and we're also preparing to sell online in August.
As for me, I will be shooting a short film in August. I'm also in talks about a possible docudrama following me around as I go through the process of starting and growing a new business while balancing life as a mom and wife.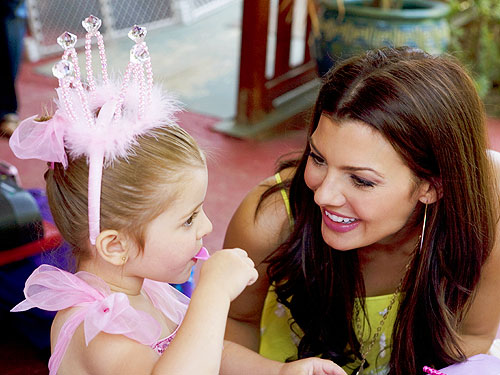 Courtesy Bryan Randall
— Reporting by GG Benitez